Description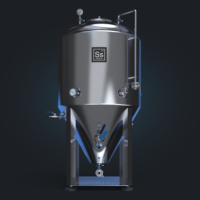 Staged Payment available on this product. Pay £2398.00 on ordering and the balance on despatch. Please email for this service
Expected to ship March 2019.
Ss Brewtech set out to design a line of Jacketed Unitanks by taking the same robust material thickness, finishing standards, and glycol jacketing as their Pro Unitanks, then scaled them down to popular pilot and nano brewery sizes.  It was also important that they borrow popular cues from our single wall Unitanks such as a lower stiffener shelf plate, and square tube leg design.
Also carried over the popular Zwickle style sampling valve, DIN racking arm, sleeved thermowell port, and analog thermometer.  Then added a pro carb stone along with a combination CIP and dry hoping port.  Instead of incorporating a cumbersome off the shelf monster manway, they decided to go with the familiar TC standard and their own proprietary TC lid cap and gasket system that prevents the gasket from inadvertently falling into the tank when removing the lid cap.  This line of Jacketed Unitanks strikes the perfect balance of Pro performance in a smaller package.
Features
Pro Construction: 3 mm inner wall, 2 mm dimpled glycol jacket, 1.5 mm outer wall
Lower Cone and Body Glycol Jacket
Lid cap includes combination 3″ dry hop port and PRV
Blow off tube and Sanitary Pressure Gauge
Zwickle Style Sampling Valve and Analog Thermometer
1.5″ TC Rotatable racking arm with DIN nut, 1.5″ lower dump port
Discrete cylinder and cone jackets allow for half batching
1/2″ NPT glycol inlet and outlet ports with internal jacket tie
316 SS Carbstone with valve
Cone mounted sleeved RTD port with probe included
4 MM lower stiffener plate with adjustable feet
84″ 213cm Height