Description
This 2.7kW Stainless Steel heating element has a 9.5w per cm2 density and is configured to use a 2.5 inch Tri Clamp bulkhead fitting which can be mounted into any of our stainless steel vessels including Ss Brewtech  to create an HLT or Boiler.  If purchased in conjunction with a stainless vessel we will install the bulkhead. This the allows the customer to easily add the element to the tri clamp bulkhead.
Typical values = to heat 50 litres of water with a starting temperature of 16c raised to 76c takes 48 minutes.
This heating element MUST be wired to a 220v – 240v AC supply by a qualified electrician.
The preferred cable for wiring this element is – 3 core 2.5mm HO7 RN-F Rubber Cable  – a Google search will find you a supplier.
Please note that this element is of a higher power rating than an INKBIRD is able to control. Please see our range of EINBREW controllers if you are looking for automation.
Never remove the terminal cover whilst the element is connected to the electricity supply.
Never remove the element from the Tri Clamp fitting whilst connected to the electricity supply.
Never operate the heating element unless it is fitted to a vessel and immersed in liquid, do not allow it to boil dry.
A 60mm clearance hole is required to mount the Tri Clamp bulk head fitting.
The element extends 260mm inside the pot when fitted into the Tri Clamp fitting.
Blue Crimp Ring Terminals are recommended for making electrical connections to the heating element.
Terminal layout;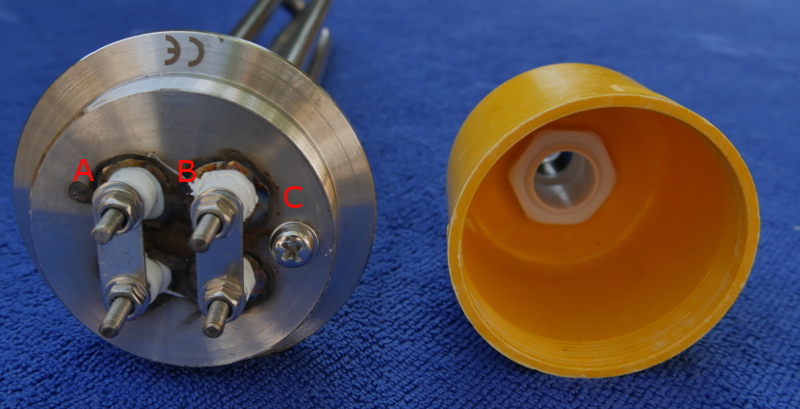 A = Live
B = Neutral
C = Protective Earth
Swiftbrew 3kW Stainless Steel Tri Clamp heating element fitting instructions