Description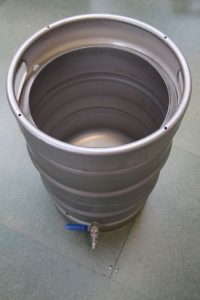 These brand new keggles are made from 304 stainless steel and include the lid.
The 1.5mm thick stainless is heavy enough to take some beating and also thick enough to be heated by direct fire with our LPG burner.
The domed shaped of the bottom of the keggle has big advantages as it has a higher surface area for heat distribution and also allows the trub to fall to the centre easily when whirl pooling.  This is ideal with the use of pellet hops, simply drain the wort from the side of kettle, the trub will be beneath the outlet.
The keggle dimensions are 41cm diameter and 59cm high with 33cm opening at the top.
The keggle includes the ½" large bore 2 piece ball valve. (Please note – Hose barb not included with tap)