Description
This is a Community Recipe created by andy-stewart
The coronavirus pandemic has hit the hospitality industry hard, as bars, restaurants, and breweries have had to adapt to a situation where most people are staying home. Many have had to lay off workers while jobless numbers hit record highs.
Looking for a way to help, the brewers at Other Half Brewing in Brooklyn, New York, devised a plan: an open-source collaboration beer, in which any brewer can participate and make their own version, with proceeds going to support hospitality workers in dire straits during the pandemic.
To that end, they launched a website—alltogether.beer—explaining the initiative and offering the recipe. So far, more than 150 breweries across the country have agreed to brew beers based on essentially the same recipe, using proceeds from sales to support the cause either locally or nationally.
The brewers at Other Half designed this recipe to be flexible so that with a couple of modifications, it could be either a West Coast IPA or a New England–style IPA. What follows immediately below is the West Coast version; see below that for the hazier, less bitter New England version.
More information can be found on Beer & Brewing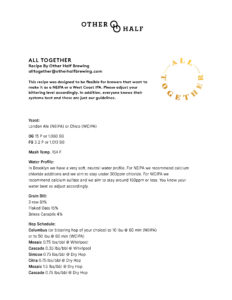 ---
Ingredients Included
Crisp Pale Ale Malt (4300 grams)
Weyermann® Carapils® (198 grams)
Flaked Oats Including Husk (1588 grams)
Cascade Pellets (71 grams)
Citra Pellets (43 grams)
Simcoe Pellets (43 grams)
Mosaic Pellets (122 grams)
Columbus Pellets (31 grams)
WLP001 Californian Ale Yeast (1 packs)
---
Method
Beer Style (main): American Ales
Beer Style (sub): American-Style India Pale Ale
Batch Size: 19
Original Gravity: 1.060
Final Gravity: 1.013
ABV %: 6.2
IBU: 57
THE MASH
Temperature °C: 68
Length (mins): 60
Out temp °C: 75
Out time (mins): 10
THE BOIL
Boil time (mins): 60
Additions and timing:
1.1 oz (31 g) Columbus [14% AA] at 60 minutes
1.4 oz (40 g) Mosaic [12.25% AA] at whirlpool
1.0 oz (28 g) Cascade [5.5% AA] at whirlpool
After the boil, spin the wort, add the whirlpool hops, and cover. Let rest for 10 minutes.
Secondary additions and timing:
2.9 oz (82 g) Mosaic, dry hop
1.5 oz (43 g) Cascade, dry hop
1.5 oz (43 g) Citra, dry hop
1.5 oz (43 g) Simcoe, dry hop
Once primary fermentation activity subsides, dry hop for two weeks.
Yeast: Chico strain
Fermentation temperature/steps: Chill the wort to slightly below fermentation temperature, about 66°F (19°C). Aerate the wort and pitch the yeast. Ferment at 68°F (20°C).
Comments:
Taken from the All Together IPA project – this is the west coast version.
In Brooklyn, we have a very soft, neutral water profile. For the West Coast version, we recommend calcium sulfate, and we aim to stay around 150ppm or less.