Description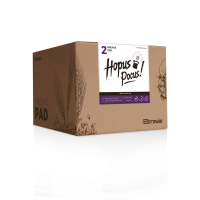 Hopus Pocus
The Hopus Pocus is a US West Coast session IPA, developed with only one aim: find the best
profile of hops man can brew. To hit this target we called the three best assistants of session
IPAs: Mosaic, Simcoe and Citra.
A hoppy, American style IPA, that noone will be able to pronounce right first. This refreshing
session beer's magic lies in the dry hopping that makes its flavour whole.
But not to put the cart before the horse, we pushed the bitterness back with hop aromas,
resulting in producing the best flavour you can expect from an IPA.
 Malt: Pilsner, Wheat, Melanoidin
 Hops : Magnum, Mosaic, Simcoe, Citra
 Yeast: US-05
 Difficulty: Medium
 Ready to taste: after 8 days
 BJCP: 21A American IPA
 ABV: 6
 IBU: 55
 SRM : 7
 Product size: 27 cm x 22cm x 32c / 12.8 inch x 8.2 inch x 10.6 inch
 Weight: 7225 g / 16 pounds