Description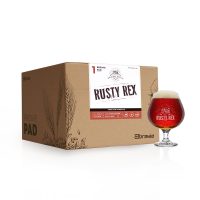 Rusty Rex
English style pale ale with American hops? Raaawr! Following "the less is more" philosophy, it
has a non-intrusive, light bitterness, keeping its flavours in bay, without overflowing them. The
reddish, rusty colour mirrors its biscuit-like taste.
A modern American craft beer based on an English style pale ale with a twist: we used
American hops in it. The secret of the popularity of this beerstyle is the hoppy flavour and
aroma. It's one of the favorite beers of the locals. Drinkable and pale. Light but still bitter.
Characterized by low carbonation and low alcohol levels.
Malt: Munich Malt I
Hops: Magnum, Cascade
Yeast: US-05
Difficulty: Basic
Ready to taste: after 4 weeks
BJCP : 19A American Amber Ale
ABV: 4.1
IBU : 35
SRM: 14
Product size: 27 cm x 22cm x 32c / 12.8 inch x 8.2 inch x 10.6 inch
Weight: 4525 g / 10 pounds