Description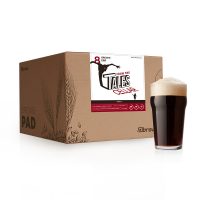 Might be spooky at first glance with its murky presence but in the end, all of you will be
satisfied with the aroma of this unique treat. Don't be afraid of the dark!
Its color seemingly darker than a haunted forest at night but after the first sips, this
horrifyingly pleasing delight pampers your taste buds with US aroma hops and strong, roasted
maltiness. Spoil yourself with the full taste and the unique savoriness of our new Stout.
Malt : Pale Ale, Chocolate, Roasted Barley, Spec B
Hops: Magnum, Amarillo, Simcoe
Yeast: US 05
Difficulty: Easy
Ready to taste: after 6 weeks
Product size:  27 cm x 22cm x 32c / 12.8 inch x 8.2 inch x 10.6 inch
Weight:  6255 g / 14 pounds