Description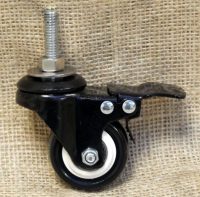 Casters for Chronical series fermenters and brite tanks. Wheel is braked, simply screws into the base of each leg making the fermenters easily maneuverable.
These will fit on 7 gal standard fermenters if using leg extensions
Please note;
For Brite Tank order 4 casters.
For 7 Gallon Chronical order 3 casters.
For 14/Half Barrel Chronical order 4 casters.