Description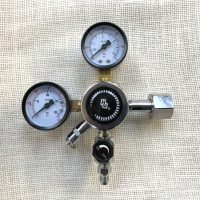 This dual gauge CO2 regulator has two handy additions not often found at this price point. The pressure relief valve will be a handy tool for any brewer who uses commercial style kegs as it enables decompression of the vessel. It also boasts an on/off valve meaning it can be turned off without adjust the pressure dial.
Set up is very easy as we specified the outlet as 1/4 MLF thread. This is the same as is used on keg disconnects so fits the common John Guest or stainless nut and barb if you prefer a barbed fitting.
The low pressure ( keg side ) gauge shows 0 to 60 PSI, this enables delivering small increments of pressure very easy.