Description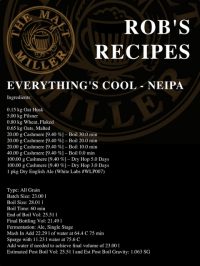 Download BeerSmith BSMX & XML files
If you are using a Grainfather you can use the XML file to control your brew session.
New England, Vermont, cloudy, murky, juicy, whatever you like to call them. This take on an IPA is becoming very popular. Less bitterness, fuller mouth feel and the most amazing fruit flavours coming from large amounts of hops used late in the boil and for dry hopping. These are incredibly easy drinking and hide their stronger alcohol well.
This kit contains the ingredients below. We have left the choice of yeast to the brewer however, we recommend WLP007, TYB Vermont or if you prefer dry yeast Classic English Ale Yeast.
Type: All Grain
Batch Size: 23.00 l
Boil Size: 28.01 l
Boil Time: 60 min
End of Boil Vol: 25.51 l
Final Bottling Vol: 21.49 l
Fermentation: Ale, Single Stage
Mash In Add 16 l of water at 64.4 C 75 min
Sparge with 14 l water at 75.6 C
Add water if needed to achieve final volume of 23.00 l
Estimated Post Boil Vol: 25.51 l and Est Post Boil Gravity: 1.063 SG
Ingredients;
0.15 kg Oat Husk
5.00 kg Pilsner
0.80 kg Wheat, Flaked
0.65 kg Oats, Malted
20.00 g Cashmere Pellet [9.40 %] – Boil 30.0 min
20.00 g Cashmere Pellet [9.40 %] – Boil 20.0 min
20.00 g Cashmere Pellet [9.40 %] – Boil 10.0 min
40.00 g Cashmere Pellet [9.40 %] – Boil 0.0 min
100.00 g Cashmere Pellet [9.40 %] – Dry Hop 5.0 Days
100.00 g Cashmere Pellet [9.40 %] – Dry Hop 3.0 Days
Please order your chosen yeast, we recommend either Imperial Juice or WLP007. (yeast not included)