Description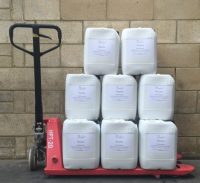 23 litre fresh wort kit, supplied in a jerry can.
This is a professionally brewed wort sourced from a  15 barrel brewery to our recipe spec. Simply purchase the kit, select a yeast, pour into a fermenter and ferment.
Brewers are able to choose the yeast strain, fermentation temperature, and dry hop additions to personalise this kit to the final beer.
The fresh wort kit is made using Cascade and Bramling Cross hops, with Pale, Abbey, Melanoidin, Crystal and Wheat Malts.
OG 1.044
FG 1.012
Instructions – please read all of these instructions before starting:
Using a flat blade screw driver remove the tamper evident ring from around the cap
Clean and sanitise the top of the jerry can
Clean and sanitise your fermenting vessel
Remove the jerry can lid and pour vigorously into your fermenter, this will ensure good aeration
Add your chosen yeast (not included)
Replace fermenter lid and fit airlock
Ferment at temperature required by your chosen yeast (18-22c)
Once you reach the FG move the fermenter to a cool place to cold crash, preferably 12-0c for a couple of days
Transfer to your chosen serving method of bottles or kegs