Description
5.0% – Helles Style Lager – 440ml
A rich, golden & bready Helles style Lager.
It's all about balance brewing a Helles, focussing on the quality of your ingredients and taking your time with the processes. We've kept the grist simple; using Lager malt from Simpsons Malt and Crisp's Vienna malt and then simply Hallertau Blanc hops, all providing the beer with an unmistakable Bavarian character.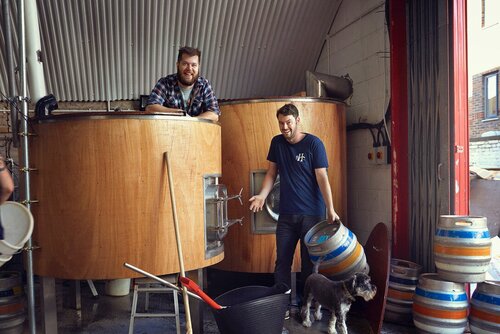 Hackney Brewery
Founded in 2011 by Peter Hills and Jon Swain in a couple of railway arches in Hackney. Hackney Brewery now has a new home in Walthamstow at our High Hill Brewery & Taproom.
The craft beer scene was quite a different landscape back in 2011 when Pete & Jon founded the brewery, then with barely double figures of breweries in existence. Over the past 10 years of organic growth, the brewery is evolved significantly from where it started. Now focussing on Keg and Can formats with modern and hop forward styles.
We've spent years refining and progressing our recipes to keep up with people's ever-changing taste. Over the years we've invested in state-of-the-art lab equipment and we strive to continuously improve our processes and work to get the best out of our ingredients