Description
PALE ALE
This little firework of tropical fruits is a juicy, dry hopped pale ale. A superb blend of big American hops that creates a bold distinct brew. It's packed with pine, floral and pineapple hop flavours and aromas. A light malt base with a touch of dextrin malt, locks in the hop character and boost mouthfeel.
ABV: 4.5%
Stats: 45 IBU. 15 EBC. OG 1.0445.
Hops: Chinook, Amarillo, Ekuanot.
Malt: Best Pale, Dextrin.
Format: Keg, Can.
Vegan: Yes.
Tasting notes: Juicy, Tropical, Refreshing.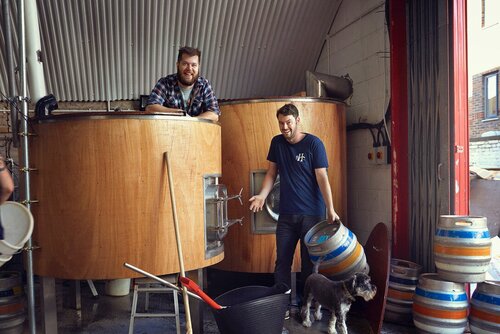 Hackney Brewery
Founded in 2011 by Peter Hills and Jon Swain in a couple of railway arches in Hackney. Hackney Brewery now has a new home in Walthamstow at our High Hill Brewery & Taproom.
The craft beer scene was quite a different landscape back in 2011 when Pete & Jon founded the brewery, then with barely double figures of breweries in existence. Over the past 10 years of organic growth, the brewery is evolved significantly from where it started. Now focussing on Keg and Can formats with modern and hop forward styles.
We've spent years refining and progressing our recipes to keep up with people's ever-changing taste. Over the years we've invested in state-of-the-art lab equipment and we strive to continuously improve our processes and work to get the best out of our ingredients