Description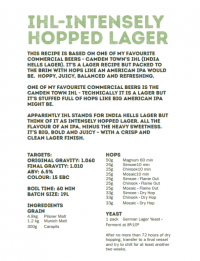 Download BeerSmith BSMX & XML files
If you are using a Grainfather you can use the XML file to control your brew session.
Don't forget to select a yeast!
TARGETS:
Original Gravity: 1.060
Final Gravity: 1.010
ABV: 6.5%
Colour: 15 EBC
Boil Time: 60 min
Batch size: 19L
Ingredients
Grain
4.8kg Pilsner Malt
1.2 kg Munich Malt
300g Carapils
Hops
50g Magnum 60 min
25g Simcoe 10 min
25g Chinook 10 min
25g Mosaic 10 min
25g Simcoe – Flame Out
25g Chinook – Flame Out
25g Mosaic – Flame Out
33g Simcoe – Dry Hop
33g Chinook – Dry Hop
33g Mosaic – Dry Hop
Yeast
1 pack Mangrove Jack's Bohemian Lager Yeast M84 or WLP800 (not included)
Ferment at 8º-10º
After no more than 72 hours of dry hopping, transfer to a final vessel
and try to chill for at least another two weeks.