Description
ITW PRT Gov Reg™ dispensing regulators have what it takes to get the job done when the pressure's on. It's packed with features that make it the ideal regulator for the most discerning establishments. It's built to last with a sturdy stainless steel body that looks great and is impervious to corrosion
Each dispensing regulator is fitted into an individual gas line, allowing control of gas pressure on the line and at the point of the keg. This ensures that each line is preset and no interference can occur to the pressure that you set on the line.
Adjust and set the desired pressure on the dispensing regulator using the included adjuster tool, then fit your check valve. The check valve will prevent liquid passing up the gas line and reaching the gas bottle regulator.
Screw the included JG 8mm x 1/4 BSP adaptor, insert 5/16 gas line section (included), attach included JG 5/16 to 3/8 adaptor to step the line up to your regulator using 3/8 gas line.
Starter set includes all you need to get control gas pressure on two beer lines in a handy storage case:
1 x ITW PRT Gov Reg™ tester/adjuster tool
2 x John Guest 8mm x 1/4 BSP push fitting
2 x John Guest 1/4 to 3/8 push fitting
2 x ITW PRT Gov Reg™ Dispense Regulator – Stainless Steel Threaded
2 x IWT PRT Gov Reg Stainless Steel Check Valves
ITW PRT Gov Reg™ dispensing regulator
Space saving design incorporates into existing coupler
High accuracy (+/- .5 PSI)
Lower cost to consumer
No need for additional gas line / Greatly reduces install time
Easily adjustable by untrained bar personnel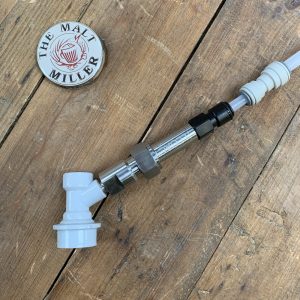 ITW PRT Gov Reg™ tester/adjuster tool
For use with ITW PRT Gov Reg™
Sets/tests pressure to the highest accuracy.
Anodised alloy
Gauge accuracy +/- 2%
Tool allows technicians to read Gov Reg™'s pressure and adjust to desired pressure as necessary without removing Gov Reg™ from gas line.
Simply remove Gov Reg™ from keg coupler and install tester to operate tool.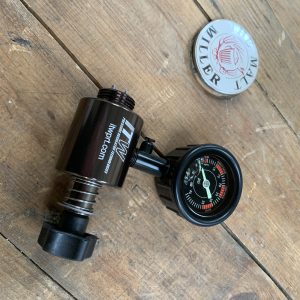 Simplicity
Sleek inline design to attach to gas port side of all keg couplers
Greatly minimizes the install time compared to traditional secondary regulators
Ability to leak test under water and boil for sterilization
Durability
All metal construction
No gauges to crack or creep out of tolerance
Gas compatibility – CO2, Argon, O2, N20, N2
Performance
Output pressure range 4-55psi
Input pressure range 20-150psi
Accuracy +/-.5 psi
Applications
Short draw & long draw beer delivery systems, kegs in series
Wine on tap
Soda soft drink pressurized delivery system
Commercial Use of Gov Reg
NOTE: This video show Gov Reg in use in a commercial enviroment. The product we are offering is the Home Brew product which is threaded and allows use of John Guest fittings.