Description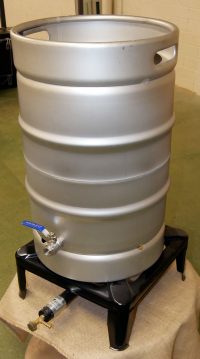 This keggle with burner and grain steeping bag is all the equipment required to be able to brew from grain or extract. Just add a propane bottle. This keggle has a capacity of 58 litres, so big batches are no issue.
Simply steep the grain at the temperature and time stated in the recipe, remove and then boil the resulting liquor with hops.
Brewing from grain does not have to be complicated. This is an economical, easy step that will be expandable as experience is gained.
The domed shaped of the bottom of the keggle has big advantages as it has a higher surface area for heat distribution and also allows the trub to fall to the centre easily when whirl pooling.  This is ideal with the use of pellet hops, simply drain the wort from the side of kettle, the trub will be beneath the outlet.
Stainless steel keggle with stainless hop filter and full bore two-piece stainless steel valve with hose barb. Stainless lid included.