Description
TASTE NOTES
Piña Colada
ORIGIN
Papua New Guinea
PROCESS
Natural
Piña Colada in a coffee cup!! Full on flavour and summer fun right here! Great as a cold brew or filter. Also consider this coffee for anything tropical and funky, IPA, DIPA or Sour! Perhaps pair with some Sabro or Talas for that coconut punch vibe!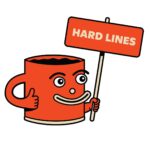 "Hard Lines is a coffee shop and roastery based in Cardiff, Wales. We select, roast and serve great coffee that's been sourced sustainably with the aim of building long lasting relationships at origin. We believe that what we're trying to build is about more than just good coffee. We aim to keep it fresh, fun and not too serious throughout."
Here at The Malt Miller we are focused on finding new and interesting Coffee for you to enjoy at home either as a stand alone beverage or for you to brew beer with. We offer the option for your coffee to be ground to order or for you to have it delivered as whole beans, all in quantity's that you specific and work for your needs.
We offer the option to grind coffee for either filter or espresso. We grind your coffee for a generic setting that will suit a lot of purposes, if you choose espresso grind please note this has been set to grind for a "pressurised" machine that you might find in most domestic settings however if you have a more advanced espresso machine we would recommend whole bean and grinding at home so you can dial in your perfect shot.