Description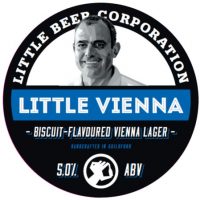 These kits include all grains, hops, and yeast needed to brew the recipe according to the instructions found in CAMRA's Essential Home Brewing book.
Little Beer Corporation – Little Vienna
Little Beer Corporation is a mid-sized microbrewery from Guildford, owned by around 400 local shareholders. They are community-minded, and believe in the link between people and beer; after all, beer has been at the centre of humans getting together and communicating with each other, for thousands of years. They believe that people buy microbrewery craft beer, as much for the people behind the beer, the story, the endeavour – as for the beer itself. Their focus is brewing full flavour, lower alcohol beers, and their core range of six beers are all between 3.5 and 3.9% ABV.
Little Vienna is a Vienna lager, hopped with Nelson Sauvin and Simcoe hops. Vienna malt provides a slightly toasty and complex, rich malt profile to this lesser-known lager style, which is amber in colour with a slight sweetness. The hops add a new-world twist, bringing subtle notes of pine needles and gooseberries alongside the Saaz. The finish is dry and crisp with the moderate ABV making for an overall refreshing experience on the palate.
Colour 26
Original 1038
Final 1008
ABV 3.8%
Bitterness 35
Every effort is made to match the brewery recipe precisely, but at times it maybe necessary to change some of the listed ingredients on the recipe to alternatives due to seasonality or availability, but in all cases we do our best replace with something that won't impact on the overall taste and flavour of the beer.