Description
CHICKEN SALT FRIES
An Aussie favourite, we work with Mitani, the originators of Chicken Salt seasoning to produce this delicious snack that is Made for A COLD BEER
THE STORY OF CHICKEN SALT FRIES 150G
An Australian food icon.

Thin cut potato fries seasoned with Chicken Salt, a delicious blend of savoury herbs and spices. Simple and intensely delicious.

To ensure it's the real deal we use Mitani Chicken Salt, a family-owned business who've been making this classic seasoning since the 1970's.

Made for friends and beers.
What drinks pair well?
Made for a cold beer.
Chicken Salt Fries are loved across Australia and when the suns been beating down all day nothing beats a cold beer and a quick bite to eat. Packed full of umami, a cold lager is just delcious with them. Nothing more complicated than that.
We also love it with a big Aussie Chardonnay or for an alcohol free alternative give Lucky Saint a whirl it's great.
100% SUITABLE FOR A VEGETARIAN DIET
An Australian Food Icon.
Thin cut potato fries seasoned with Chicken Salt.
Simple & intensely delicious, they are the ultimate umami packed treat loved across Australia.
To ensure it's the real deal we use Mitani Chicken Salt, a family owned business who've been making this classic seasoning since the 1970's.
Made for friends & beers.
Enjoy!
Ingredients:
Our Chicken Salt Fries are made from: Thin cut potato fries cooked in Sunflower oil and seasoned with the traditional Mitani Chicken Salt from Australia [(Sea Salt, Rice Flour, Spices, Vegetable Powders (Onion, Garlic), Natural Flavourings (contains Celery, Oleoresin), Yeast Extract, and Silicon Dioxide (Anticaking Agent)].
For allergens see ingredients in BOLD
Chicken Salt Fries are 100% Plant Based and suitable for Vegetarians.
What about allergies?
We cook all the products ourselves in our own kitchens with a fully traceable supply chain from farm to fingertips. Our kitchens are kept free of the 14 major allergens as stipulated by the Foods Standards Agency. However, if you are sensitive to a particular ingredient, please make sure you check the ingredients list first.
Nutritional Information:
| TYPICAL VALUES | PER 100G | PER 25G SERVING |
| --- | --- | --- |
| ENERGY | 506 kcal | 127 kcal |
| | 2114 kj | 529 kj |
| FAT | 30.1g | 7.5g |
| of which SATURATES | 3g | 0.8g |
| CARBOHYDRATES | 52.6g | 13g |
| of which SUGARS | <0.5g | <0.125g |
| PROTEIN | 6.2g | 1.6g |
| SALT | 3.05g | 0.8g |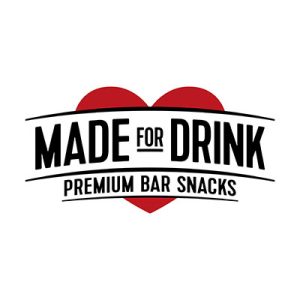 Inspired by drinking cultures around the world, we create intensely delicious snacks that pair beautifully with a drink.
To create the tastiest snacks, we source quality ingredients from carefully-selected suppliers: Free-range Devonshire ducks from Creedy Carver, traditional Hungarian salamis following recipes 150 years old, authentic Spanish chorizo from a small family producer in Galicia.
We make real, simple, exceptional food to bring people together in the perfect moment.
We believe the ability for food and drink to bring people together is incredibly special.
Take a moment to close your eyes and think of that perfect day with a handful of your favourite people. I bet…
That moment involves real eye contact.
That moment doesn't involve scrolling through social.
There's laughter and easy conversation.
There's comfort, warmth and happiness.
And I bet at the heart of that moment is good food and drink. It's a moment that is simple, timeless and incredibly special.
After many hours in the kitchen crafting the perfect pub snacks to enjoy with a drink, I struck on an opportunity to trial them at my favourite local – Heston Blumenthal's The Crown at Bray – testing our recipes on the very customer that inspired me. The trial resulted in our first listing with Blumenthal's The Fat Duck Group.
Made For Drink fever spread quickly and soon we were supplying Rick Stein and Fortnum & Mason with snacks handmade by us and delivered from our village hall in Waltham St Lawrence.
Three years on and we still make all our delicious products by hand from our new, purpose-built Berkshire kitchens – the beating heart of Made For Drink – and supply over 300 of the world's leading food & drink establishments with bar snacks of equal standing.