Description
SALAMI CHIPS
Working with a 150 year old producer of traditional Hungarian salami (or Kolbacz), these intensely flavoured slices are Made for PILSNER
THE STORY OF SALAMI CHIPS 30G
Our salami chips are inspired by the food and drink of Eastern Europe – the home of all Pilsner style lagers made today.
Kolbasz (or what we would describe here the UK as a smoky, flavoursome salami) is traditional to Hungary and is eaten in every home and loved as a side dish or snack with a glass of beer.
The Kolbasz (traditional salami) used to make our salami chips comes from a family-owned business that has been producing 'Kolbasz' in Hungary for over 150 years – and is still making them to its original recipes today.
Traditional Kolbasz is made from pork, Hungarian paprika, salt, garlic & ground caraway seeds, cured and then smoked over Beech Wood. It's easily identifiable due to its attractive, rich smoky colour and it's unique and delectable texture.
Traditionally Kolbasz is made form Mangalitza Pork, which in the past our Salami Chips were also made from. The breed is now unfortunately at crisis point and largely unavailable for export. Instead we use another traditional pork breed; a Duroc Cross.
Sliced and roasted our Salami Chips are an intense, smoky, sweet, salty, beautiful thing with amazing texture and a touch of acidity.
What drinks pair well?
Crunchy, salty, fragrant and rich in fat and umami, our traditional Hungarian Salami chips are a beer's best friend. Eastern Europe made Pilsner-style lager and it made Kolbasz/Salami. Both are delicious and both have been enjoyed together forever in that part of the world.
We also love them with a glass of crisp, white wine – the fat, salt and touch of acidity from the beech smoke make a glass of Chenin Blanc, or white all the more enjoyable. For a non alcoholic alternative Lucky Saint hits the spot pretty damned well.
We think they are pretty amazing (it's what made us famous after all) but don't just take our word for it, we've got some pretty special fans out there:
"Proper banging munchies!" – Stephen Terry
Ingredients:
Our Salami Chips are sliced and slow-roasted traditional Hungarian salami, made from: pork, salt, paprika, ground caraway seeds, garlic and dextrose [colour paprika extract, preservative sodium nitrite, potasium sorbate & smoked over Beech Wood]
What about allergies?
We cook all the products ourselves in our own kitchens with a fully traceable supply chain from farm to fingertips. Our kitchens are kept free of the 14 major allergens as stipulated by the Foods Standards Agency. However, if you are sensitive to a particular ingredient, please make sure you check the ingredients list first.
Nutritional Information:
| TYPICAL VALUES PER PACK | SALAMI CHIPS (30G) |
| --- | --- |
| ENERGY | 174kcal |
| | 720kJ |
| FAT | 14g |
| of which SATURATES | 5.4g |
| CARBOHYDRATES | 0.2g |
| of which SUGARS | 0.1g |
| PROTEIN | 11.2g |
| SALT | 2g |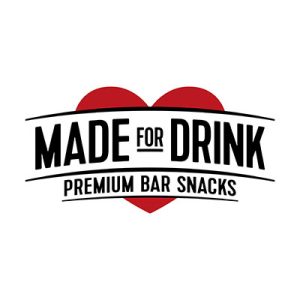 Inspired by drinking cultures around the world, we create intensely delicious snacks that pair beautifully with a drink.
To create the tastiest snacks, we source quality ingredients from carefully-selected suppliers: Free-range Devonshire ducks from Creedy Carver, traditional Hungarian salamis following recipes 150 years old, authentic Spanish chorizo from a small family producer in Galicia.
We make real, simple, exceptional food to bring people together in the perfect moment.
We believe the ability for food and drink to bring people together is incredibly special.
Take a moment to close your eyes and think of that perfect day with a handful of your favourite people. I bet…
That moment involves real eye contact.
That moment doesn't involve scrolling through social.
There's laughter and easy conversation.
There's comfort, warmth and happiness.
And I bet at the heart of that moment is good food and drink. It's a moment that is simple, timeless and incredibly special.
After many hours in the kitchen crafting the perfect pub snacks to enjoy with a drink, I struck on an opportunity to trial them at my favourite local – Heston Blumenthal's The Crown at Bray – testing our recipes on the very customer that inspired me. The trial resulted in our first listing with Blumenthal's The Fat Duck Group.
Made For Drink fever spread quickly and soon we were supplying Rick Stein and Fortnum & Mason with snacks handmade by us and delivered from our village hall in Waltham St Lawrence.
Three years on and we still make all our delicious products by hand from our new, purpose-built Berkshire kitchens – the beating heart of Made For Drink – and supply over 300 of the world's leading food & drink establishments with bar snacks of equal standing.