Description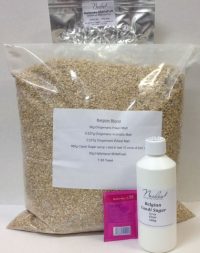 Don't forget to select a yeast!
Using ingredients that we source direct from the manufactures in Belgium this recipe kit produces an authentic tasting blond beer, simply delicious.
Approx SG of 1065
Everything below is included in the kit
5kg Dingemans Pilsen Malt
227g Dingemans Aromatic Malt
227g Dingemans Wheat Malt
Mash at 66c for 90 minutes at a rate of 2.5 litres of liquor to each kilo of grain.
500g Candi Rocks Clear ( add in last 10 mins of boil )
83g Hallertauer Mittelfrueh ( 90min boil )