Description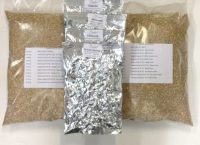 Don't forget to select a yeast!
Just as with commercial breweries we have to adjust recipes when certain hops become scarce, this recipe is ever evolving, just like the beer its based on.
This is a clone of the beer that started many drinking hop forward type beers. Huge fruit flavours dominate, a true classic!   See a review of this kit here http://m.youtube.com/watch?feature=youtu.be&v=J8yk3Y1lfbI
This pack contains enough ingredients to brew two batches of 19 litres.
The Maris Otter is weighed out in two 5kg bags ready to be added to the mash tun/grain bag.  Hops are supplied in our usual 100g packs and will need weighing out.
Boil Size: 26.84 l
Post Boil Volume: 21.84 l
Batch Size : 19.00 l
Mash liquor Volume 12.5l
Mash Temp 66c 90 mins Estimated OG: 1.059
SG Estimated Color: 10.0
EBCEstimated IBU: 43.2 IBUs
Brewhouse Efficiency: 75.00 %
Boil Time: 60 Minutes
Ingredients: 5.00 kg Pale Malt
50.00 g Bravo [14.00 %] – Boil 12.0 min
18.00 g Chinook PELLETS [14.10 %] – Boil 5.0 min
16.00 g Ahtanum [5.30 %] – Boil 5.0 min
16.00 g Cascade [5.50 %] – Boil 5.0 min
16.00 g Ahtanum [5.30 %] – Boil 0.0 min
16.00 g Cascade [5.50 %] – Boil 0.0 min
16.00 g Chinook PELLETS [14.10 %] – Boil 0.0 min
Dry Hop 5.0 Days 16.00 g Cascade [5.50 %] –
Dry Hop 5.0 Days 16.00 g Chinook PELLETS [14.20 %] –
This kit would suit NBS West Coast yeast or Mangrove Jacks M44 (not included)