Description
The next generation of Hop product from pioneers Barth Haas/Simply Hops, this revolutionary product is available to home brewers at the same time as breweries giving you the chance to be part of the future of dry hopping.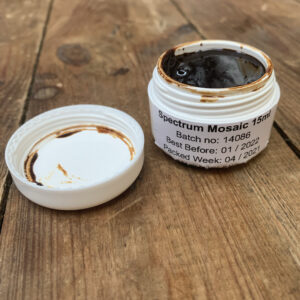 SPECTRUM™ is a revolutionary new liquid hop product that delivers full dry-hop characteristics. The final product
is 100% hop material with no artificial additions. Imagine the finest hop pellets in liquid form and you will understand the impact and efficiency gained when using SPECTRUM™.
SPECTRUM™ is true to type which means it offers the attributes that you would expect of a specific hop variety. We currently produce SPECTRUM™ from Citra® and Mosaic® with many more varieties to come in the future.
100% HOPS, ZERO VEGETATIVE MATERIAL
Get all the alpha acids and flavour compounds of hops without the vegetative material, for maximized efficiency and greater yield.
LOSE LESS
SPECTRUM™ IS FULLY DISPERSABLE IN COLD BEER SO YOU LOSE NOTHING.
With no solid matter to soak up beer and profits, SPECTRUM™ can replace hop cones or pellets in full or as a partial replacement when dry hopping, to give you back all that you would have lost with the traditional hop formats.
GAIN CONTROL
PROFESSIONAL BREWING IS ABOUT BREWING CLEANLY, CONSISTENTLY AND EFFICIENTLY TO ACHIEVE THE BEST PRODUCT IN A PROFITABLE WAY.
SPECTRUM™ offers many huge advantages over hop cones and pellets to help you achieve a new level of control in these areas.
UNIQUE AND VARIETY SPECIFIC
SPECTRUM™ TAKES PROFESSIONAL BREWING ONE STEP FURTHER, ALLOWING YOU TO FINE-TUNE AND REFINE YOUR DRY-HOPPING FLAVOURS AND PROCESSES LIKE NEVER BEFORE.
It's a unique, variety specific dry hopping product that disperses entirely in to cold beer. It's 100% pure hop that imparts the full hop flavour and aroma while reducing losses and allowing you to dry-hop with unparalleled control.
CONSISTENT SPECIFICATION AND EASE OF USE
LIKE OTHER NATURAL PRODUCTS, HOPS VARY IN THEIR COMPOSITION. THIS CAN MAKE TRULY CONSISTENT BREWING A CHALLENGE.
Like the pellets you know, SPECTRUM™ is 100% natural hop, but due to the unique way in which it is processed we are able to offer a product with a significant increase in consistency. With less variance, you get increased control of your beer's flavour and aroma.
SPECTRUM™ IS FLOWABLE, SO IT CAN BE EASILY DOSED IN TO ALMOST ANY BREWING SYSTEM WITH MINIMUM MESS AND FUSS.
It also does not create any waste that needs to be dealt with once finished. Compared to hop cones and pellets SPECTRUM™ offers a simple dry-hopping process that is clean, accurate and time saving.
SPECTRUM™ IS PRODUCED IN A WAY THAT ELIMINATES MICROBIAL THREATS.
As a liquid product it also allows you to use it with dosing equipment to better protect against potential infection during dry-hopping.
SPECTRUM™ IS OXYGEN FREE AND HELPS YOU AVOID OXYGEN INGRESS WHEN DOSING
Unlike hop pellets and cones, SPECTRUM™ leaves nowhere for oxygen to hide. With careful dosing you can dry-hop with almost no oxygen addition at all.
SPECTRUM™ DOES NOT INTRODUCE ENZYMES INTO THE BEER THAT RESTART THE FERMENTATION PROCESS.
This means that SPECTRUM™ will never be the source of hop creep.
"We have seen a lower and more consistent loss rate on the beers we have trialed it
in and are really impressed with the flavour profile it gives. We have taken it up to 50% of the dry hop in one of our beers and saw a much shorter tank time
due to lower amount of hop creep and a smaller spike in VDK."
SOPHIE DE RONDE
Burnt Mill Brewery | UK
NO LIMIT
WITHOUT THE SOLID MATERIAL YOU WOULD FIND IN TRADITIONAL HOP FORMATS, SPECTRUM™ FREES YOU TO DRY HOP IN WAYS NEVER BEFORE POSSIBLE.
SPECTRUM™ allows you to dry-hop cost effectively at much higher concentrations to create intense experiences for your customers.
However, SPECTRUM™ is versatile. It can also be used at smaller doses alongside traditional dry-hopping products to refine beers; helping to round off flavours in a cost-effective way. There are endless ways in which SPECTRUM™ can be utilised to meet any brewer's needs.
TRY IT
SPECTRUM™ is endlessly versatile. The way it can be used is different in every brewery and every beer and is unique to the way you work.
"Spectrum helped us solve long standing production issues with our dry-hopping processes. Much of
our infrastructure struggles with processing extreme dry hop loads using traditional pellets, causing unacceptable beer losses and production down time. Spectrum allows us to continue to push the limits with our beer without sacrificing time and beer quality."
ROSS KOENIGS
New Product Research and Design New Belgium Brewing | US