Description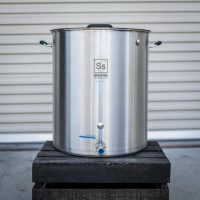 113.4 Litres Capacity With both litre and US gallon etched markings.
Re circulation port at the top of the kettle to allow for Whirlpool fitting.
Pickup Tube / Trub Dam included.
High grade 3 piece ball valve.
Heavy duty 18 gauge 304 Stainless
1.2 x 1.0 height to width ratio
Triclad bottom – no scorching!
Great for induction heating systems!
Silicone handles for safe handling
Internal gallon and Litre markings – no sight glass cleaning!
Weldless fittings.
Robust riveted handles for safety.
Hang lid on side handles.
For more info see the Ss Brewtech site here