Description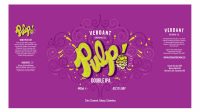 These kits include all grains, hops, and yeast needed to brew the recipe according to the instructions found in CAMRA's Essential Home Brewing book.
Verdant – Pulp
Verdant's incredible rise to international acclaim starts with a story of home brewers with a dream. The Falmouth-based brewery started life as a part-time operation in 2014. Based in a delivery container, their initial brews were released in tiny 200 litre batches and they couldn't brew enough to keep up with their growing demand. In early 2016, they expanded to a 10-barrel operation in dedicated premises and ended the year being named by beer rating site RateBeer as England's best new brewery. They still haven't caught up with demand for their trademark hazy and juicy hop-forward beers and cans fly off shelves up and down the country.
Pulp is a big 8% ABV double IPA that hides its strength dangerously well. A chewy body in a hazy golden package underpins the bold fruity flavours and aromas. Dextrose is used in the boil to aid fermentability of the wort, and the use of wheat and oats in the grist help add body. A combination of American and Australian hop varietals bring notes of mango and grapefruit
Colour 9.3
Original 1073
Final 1012
ABV 8.0%
Bitterness 55
Every effort is made to match the brewery recipe precisely, but at times it maybe necessary to change some of the listed ingredients on the recipe to alternatives due to seasonality or availability, but in all cases we do our best replace with something that won't impact on the overall taste and flavour of the beer.
To find out more about Verdant please take a visit to their site by clicking this link