Description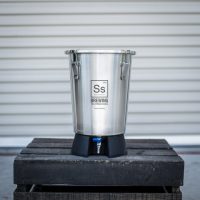 All the style of the Brewbucket but in half size.
3.5 US Gallon 13 litres total volume.
304 Stainless Steel.
Conical bottom.
Counter-top fermenting.
Stackable – save space!
Split your 5 gal batches.
Or just make small batches.
Great for meads and ciders.
Great for wine.
Great home brew sized yeast brink.
Features similar to Brew Bucket.
Half-size version of standard Bucket.
Electrically etched volume markings in both litres and US Gallons.
Stopper – included.
Food grade silicone lid gasket – included.
3/8″ ball valve with hose barb – included.
Rotatable racking arm – included.
Silicone base bottom – included.