ExBOARiment: Kviek Lager Pt1
Another great guest post from Jon Moore at Beer Boars
Classic lager styles are steeped in tradition. While brewers are embracing the continued evolution of certain styles (does anybody really know what an IPA is any more?) lagers have a special honoured place in the hearts of beer drinkers. For some, lagers are untouchable. Revered as the absolute pinnacle of European brewing heritage. Crisp, clean and refreshing, often smashable, always delicious.
Although there have been many technical innovations in lager brewing over the last hundred years or so, the ingredients and process have remained largely the same. European malts, noble hops, bottom fermenting yeast, cool temperatures, and time.
At Beer Boars we have utmost respect for brewers who make lagers the traditional way. Augustiner Helles is a firm favourite, as are more modern interpretations like Lost & Grounded Keller Pils. We've also sampled some amazing homebrewed examples (shout out to Rob Gallagher at London Amateur Brewers for his sensational czech-style lagers). A huge amount of skill goes in to making a quality lager; when the focus is on clean fermentation and delicate malts and hops in perfect balance, there is nowhere to hide.
But brewing great lager can be elusive to many homebrewers, with temperature control often being the key stumbling block. Bottom fermenting lager yeast likes to be kept cold. Lager is typically fermented at temperatures around 8 to 12 celcius, well below room temperature, and almost impossible to achieve consistently without a fermentation fridge or expensive glycol chiller.
What if there was a way to brew lagers, or something at least lager-like, without a fermentation fridge? This is essentially what is being offered by the "Oslo" Kviek strain from Bootleg Biology.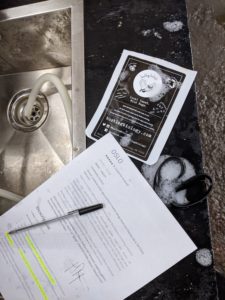 The use of kviek yeast strains have been a really interesting development over the last couple of years. They are derived from Norwegian farmhouse brewing and somehow can ferment beer at temperatures that were once seen as impossibly high. They are also well known for fermenting fast – our club members have successfully brewed IPAs with Voss Kviek in four days.
There are many different Kviek strains, each with their own charactistcs. Oslo promises "beautifully clean, lager-like beers at temperatures as high as 98F (37C) without noticeable off flavors". Beer Boars were very keen to put this to the test; could we really brew something similar to a classic lager at warm temperatures? It was time for another ExBOARiment!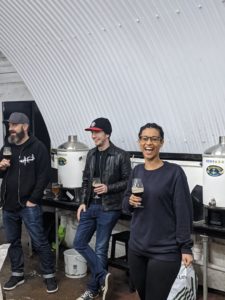 We assembled at Brew Club, Hackney Central, on 9th January to brew on one of their all-in-one Braumeister systems. This was a special #Tryanuary event and we were lucky enough to be joined by Jaega Wise, head brewer at Wild Card Brewery, based over in Walthamstow. Jaega is a great supporter of the homebrew community and it was really valuable to get input from a pro-brewer on the recipie and process.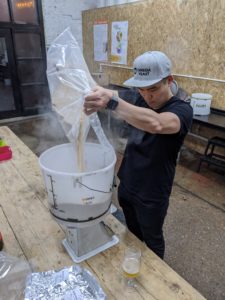 We wanted to focus on what the yeast could do, so we decided on a recipie that was as simple as possible; 100% pilsner malt and a single hop addition of Hallertauer Mittelfrueh at 60 minutes to give us 15 IBUs. We were aiming for something along the lines of a light Helles, but weren't too caught up on the specifics of the style. The malt itself was a premium pilsner malt from the Weyermann Barke range, that should give the malt flavours an added boost, and we mashed at a slightly higher temperature, 69c at Jaega's suggestion, to give the beer a fuller body. The recipie itself is very similar to a fermentation temperature experiment carried out by Brülosophy, although this was a complete coincidence.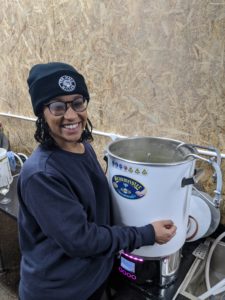 The brew went well, finings were added, and after a slight hiccup involving a leaky fermenter tap, we were ready to pitch the yeast. We achieved an original gravity of 1.041 – bang on target.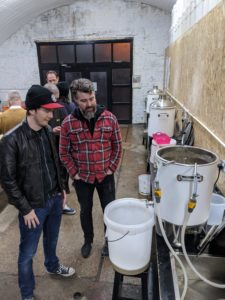 The fermentation room at Brew Club is kept at a steady 20c. We didn't want the Oslo yeast to ferment too high, as we read that fermenting at the lower end of the scale can help to suppress esters and contribute to a clearer ferment, but wanted to go a little over the ambient 20c. We decided to aim for 25c, maintained via an inkbird and heat mat.
As I mentioned, Kviek can ferment fast, but speed wasn't a factor in this experiment, so we returned two weeks later to check in on our beer. It had fully fermented down to 1.009, giving an ABV of 4.2%, and it may be one of the clearest beers I've ever brewed without an extensive cold crash or gelatine treatment.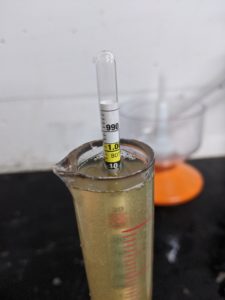 Traditional lagers undergo a "lagering" process, storage at temperatures close to zero for several weeks, to clean up any byproducts from fermentation and allow any yeast particles to fully drop out, giving a clear and crisp finished beer. Without any sophisticated temperature control this wasn't an option available to us, however we made the best use of the Brew Club storage room, which offers only a bare brick wall and metal sheet roof for protection from the elements, hoping to make the most of the cold January weather.
Soon we will be bottling the beer and holding a tasting, to see how this compares to a traditionally brewed lager. We also intend to enter this into the forthcoming Lager Than Life homebrew competition, just for fun. We can't wait to see how it fares against traditionally brewed lagers. We will, of course, keep you posted.
Many thanks to Jaega Wise at Wild Card Brewery and our friends at Malt Miller and Brew Club for supporting this brew day. All of the products mentioned are available from The Malt Miller.
If you think you have an interesting project brew or experimental brew that we might be interested in getting involved with them please drop us an email, or if you would like to have a guest post featured on our site then please get in touch. hello@themaltmiller.co.uk