In the shipping options on your basket you will see one which is for 'Collection'. This is if you wish to collect your order from our warehouse in Swindon. This isn't for collection from a third party or a local shop or Amazon collection point.
Our warehouse is open for collection Monday to Friday 8-5 each week, except for national holidays like Christmas etc.
The address is:
Unit A2 Faraday Road, Dorcan
Swindon, SN3 5HQ
What3Words: ///robot.history.heaven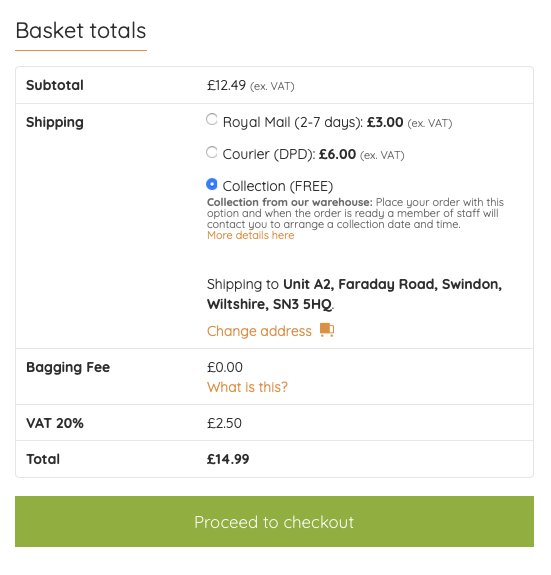 Place your order for collection, we will then contact you once the order is ready, this is usually within 48 hours. Please do not come to collect the order before you are contacted as you might have a wasted journey and have to come back later when it is ready.
When we call we will agree with you a date and time when you will be able to collect your order.
When you arrive please ring the bell outside of Unit A2, then wait by the bell until someone comes. When someone comes to help you, they will ask for your order details and then fetch your order. The order will then be placed outside where you will be able to take it. Please do check the contents to ensure that any liquid yeast or other chilled items have been added to your box as these are stored separate to the main part of the order.
Unfortunately we are not set up for visitors to just turn up and browse, all grain recipe kits, malts and ingredients are items that we pack according to order and are not available to just pick up and collect, and we do not have a shop that you can enter and browse. If you are needing help to build a bespoke order then please contact us using email or phone and we will do our best to help you.