Description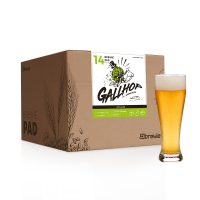 Need a refreshment real quick? Is it us or is there some serious hoofbeat in the distance? Do you wanna ride? Right on!
Don't be out of the loop, taste our newest creation at the speed of 55 mph! This category of beer refers to lagers brewed without any cereal (corn or rice). Still yellow and fizzy, these beverages will display a broader depth of malt flavor and a more complex bitterness and hop aroma than their adjunct counterparts.
Gallhop is an always refreshing Hopped lager made from Pils and Vienna malt plus Magnum and Cenntenial hops with a nice yellow colour, tasty malt notes, and a good mouth feel.
BJCP 1B American Lager
ABV (Alcohol) 5,2%
IBU (Bitterness) 48
SRM (Colour) 6
Ready-to-taste 7 weeks