Description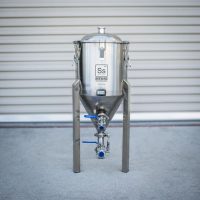 7 US Gallon Capacity, 26.5 Litres.
Certified food grade 304 Stainless Steel.
High quality fittings/valves.
1 1/2″ Tri-Clamp Fittings (lid, side, bottom).
Rotatable racking arm.
Pressurisable for keg transfers.
Sanitary welds.
Brewer's grade silicone gaskets.
Weldless thermowell Please note it does not come with the temp gauge, this is available separately.
Electrically etched (not painted) gallon markings.
Carry handles – carry when full!
84cm H x 36cm W product dimensions.