Description
Dark Malt Extract
Create your beer: Use as a base to create a full-bodied dark ale or beer. Just add flavour and/or hop additions for a unique brew
Enhance your beer: Add to all-grain or extract brews to boost volume, add body and mouthfeel whilst maintaining a balanced malt taste suited to dark ales and porters

The Muntons range of 'Craft Your Own Story' ingredients are designed to allow you the brewer to create your own bespoke beer using the highest quality extract.
A comprehensive range of malt extracts that give you the chance to design your own bespoke recipe.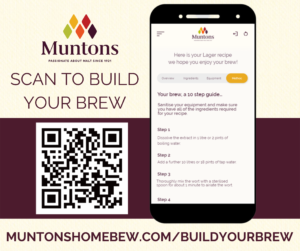 To help you build your beer you can use their app to help you choose the perfect brew for you. Choose according to flavour, aroma, ABV or beer style.
Select your standard base extract from the range of different colours, hopped or unhopped, combine with the premium extracts for building your style, colour, and body to your beer.
Then add in your hops from our wide range, select a yeast and get brewing.
All of the products can also be found in our Recipe Generator to allow you to totally create a bespoke beer, save it to your account for brewing again and again.