Description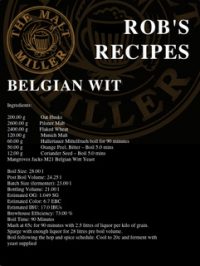 Download BeerSmith BSMX & XML files
If you are using a Grainfather you can use the XML file to control your brew session.
This Belgian style Witt is full soft creamy malt with a light fluffy head. Mild citrus from orange peel and a touch of spice from coriander.
As with all our malts this is crushed fresh directly into the bag. The only way to ensure the right proportion of malt is used.
Each kit arrives individually boxed with all ingredients and instructions needed.
Boil Size: 28.00 l
Post Boil Volume: 24.25 l
Batch Size (fermenter): 23.00 l
Bottling Volume: 21.00 l
Estimated OG: 1.049 SG
Estimated Color: 6.7 EBC
Estimated IBU: 17.0 IBUs
Brewhouse Efficiency: 73.00 %
Boil Time: 90 Minutes
Mash at 65c for 90 minutes with 2.5 litres of liquor per kilo of grain.
Sparge with enough liquor for 28 litres pre boil volume.
Boil following the hop and spice schedule. Cool to 20c and ferment with yeast supplied
Ingredients:
200.00 g            Oat Husks
2600.00 g         Pilsner Malt
2400.00 g         Flaked Wheat
120.00 g            Munich Malt
60.00 g              Hallertauer Mittelfrueh boil for 90 minutes
50.00 g              Orange Peel, Bitter – Boil 5.0 mins (please order separately)
12.00 g              Coriander Seed – Boil 5.0 mins (please order separately)
Mangroves Jacks M21 Belgian Witt Yeast (not included, please add your yeast)