Description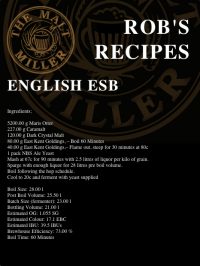 Download BeerSmith BSMX & XML files
If you are using a Grainfather you can use the XML file to control your brew session.
This classic English ESB is full of caramel malt sweetness, bold but balanced bitterness with good hop flavour and aroma.
As with all our malts this is crushed fresh directly into the bag. This is the only way to ensure the right proportion of malt is used.
Boil Size: 28.00 l
Post Boil Volume: 25.50 l
Batch Size (fermenter): 23.00 l
Bottling Volume: 21.00 l
Estimated OG: 1.055 SG
Estimated Colour: 17.1 EBC
Estimated IBU: 39.5 IBUs
Brewhouse Efficiency: 73.00 %
Boil Time: 60 Minutes
Ingredients:
————
5200.00 g Maris Otter
227.00 g Caramalt
120.00 g Dark Crystal Malt
80.00 g East Kent Goldings, – Boil 60 Minutes
40.00 g East Kent Goldings,– Flame out, steep for 30 minutes at 80c
1 pack NBS Ale Yeast
Mash at 67c for 90 minutes with 2.5 litres of liquor per kilo of grain.
Sparge with enough liquor for 28 litres pre boil volume.
Boil following the hop schedule.
Cool to 20c and ferment with yeast supplied