Elusive Brewing 7th Birthday Home Brew Comp – The Results
This year, we had the honour of participating once again in the Elusive Brewing's 7th Birthday Home Brewing Competition.
The competition has become a significant event in the homebrewing calendar over the past three years, serving as a launch pad for those contemplating turning their homebrewing passion into a professional career. This has always been at the core of the competition's mission, echoing the very reason Elusive Brewing came into existence.
Andy Parker, the founder of Elusive Brewing, was an immensely talented homebrewer before winning a major competition and receiving a prize fund that served as the deposit for the brewing kit that Elusive still uses today. Andy's vision was to provide a platform for others to follow and learn through the feedback and experience gained from entering their home brewed beers into competitions. We've been on this journey with them from the start, and we've worked hard to enhance the experience for those entering the competition this year.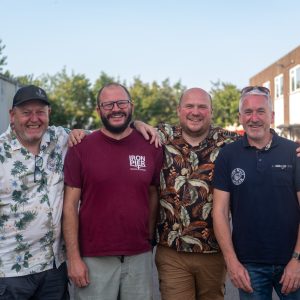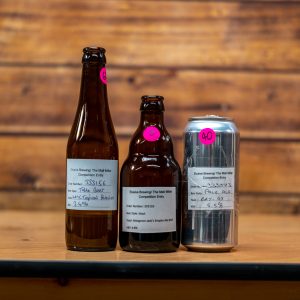 As such, we implemented a system to provide more comprehensive feedback to all entrants, this has been a challenge in the past due to logistical constraints. Our aim was to offer entrants an inside view of what the judges thought about their beers. Before diving into the feedback, here's a brief overview of how we judged the beers this year.
We judged in pairs, allowing for discussion, ensured relatively aligned scoring, plus encouraged debate about the entries. We had cases where one judge felt strongly that a beer should progress to the next round, sparking engaging conversations. Our goal was always to advance as many beers as possible to the subsequent rounds, considering the time and effort entrants invested in brewing them.
Round 1 was a screening, entries were divided into two groups and assessed by the pairs of judges. Each pair evaluated half of the entries in the first round, primarily looking for common brewing faults. Round 2 focused on the quality of the beer and all its components with Round 3 then being an opportunity for all the beers to be discussed and judged together, similar to how a Best Of Show is decided in other competitions.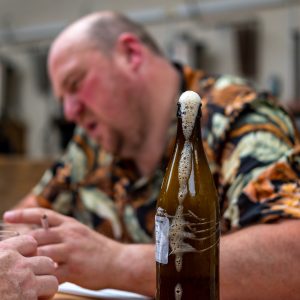 Out of the 74 entries, 35% advanced from Round 1 to the second. Here are a few thoughts on this initial round. Some faults occurred more frequently than others, notably oxidised beer, especially in those brewing hazy New England style beers, but also in other styles. Packaging such beers can be challenging for home brewers, requiring low-oxygen bottle filling techniques, the use of devices like counter-pressure fillers, and oxygen-scavenging caps (which need to be wetted before activation). Plastic screw-top bottles with internal oxygen-scavenging films were observed, but some of them had been re-used as indicated by the already snapped seal around the bottle neck. This will mean that the oxygen-scavenging caps are no longer effective. We would also suggest that you leave the bottle upright for at least 48 hours before sending them in. This will allow for the O2 to be reduced in the neck of the bottle. 
Another prevalent fault was green apple flavour (Acetaldehyde), which can be caused by beer oxidation or young beer that hasn't had sufficient time to condition after fermentation.
Some beers exhibited astringency, which can result from various factors but is about achieving balance and harmony in beer. It's not to be confused with bitterness, as you can have a beer with a substantial body and mouthfeel that retains a clean bitterness without becoming astringent. We recommend that those who encountered astringency consider reviewing their grist, mashing temperatures, sparge speed, and yeast attenuation.
Diacetyl, probably the most common off-flavour observed, is also one of the most frustrating for entrants. Diacetyl can develop after kegging, turning a beer from wonderful to distinctly buttery-sweet in a matter of days. One reason for this is "Hop Creep," where enzymes in the hops break down longer chain sugars post-fermentation, leading to a re-fermentation by the yeast. Diacetyl is produced by the yeast but is also removed by the yeast over time. So, patience and time are essential to eliminate Diacetyl. There are proactive ways to combat this, such as adding ALDC to your brew, which prevents Diacetyl formation by the yeast. Keeping the beer very cold after packaging also limits yeast activity, but this can be challenging if your entry warms up during transit.
One option is to use liquid hop products like Spectrum for dry hopping, as these contain none of the enzymes that can cause secondary fermentation. Alternatively, you can embrace Hop Creep and account for the additional time needed for this process and the subsequent Diacetyl formation and cleanup by the yeast. This approach requires recipe adaptations, such as increased mash temperatures to reach the desired final gravity.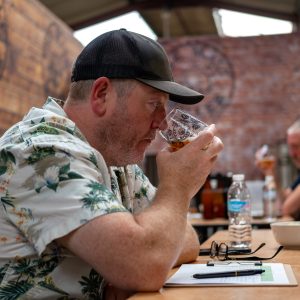 Now, onto Round 2. We aimed to have the judges try the beers they didn't assess in the first round, ensuring all second-round beers were tasted by all judges. While there were some exceptions due to varying numbers of beers put through in the first round by each group, this approach worked well. We used the BJCP-sanctioned competition scoring system, with scores for aroma, appearance, mouthfeel, flavour, and overall impression. Additionally, we evaluated the beers for commercial viability, for which we requested recipe sheets to be submitted. The overall standard in this round was notably higher, with some outstanding entries.
One notable aspect was the interpretation of "commercially viable." Some excellent hazy New England-style beers were heavily hopped to the point where they would not be commercially viable due to high production costs. It's essential to consider the practicality of brewing on a larger scale. We would suggest that reviewing the way you dry hop and seeing if you can rouse the hops after 24 and 48 hours by injecting CO2 through a tap at the bottom on your FV can make a significant difference to the utilisation of hops added to the FV. Remember that a commercial beer may have 3 or 4 meters of FV space for the hops to travel through before they hit the bottom of the FV, at home brew scale this might only be half a meter, so getting them back up into suspension can make a massive impact. 
The same can be said with hops added to the Whirlpool. A large commercial brewery will whirlpool for perhaps 20mins, then the run off time to the FV for their size of batch might be 40mins. All this time the remaining wort in the kettle will be gaining aroma and flavour fro the hops, you can replicate this at home by adding additional time to your whirlpool. The team here at TMMHQ will quite often "spin" the whirlpool for 20mins and then leave the kettle for the hops to settle, along with the proteins, for a good 30mins before starting the transfer to the FV. 
Beers which stood out in this round were generally clean, well-brewed, straightforward, and commercially sound. One exceptional entry was a simple Dry Stout brewed to perfection.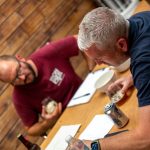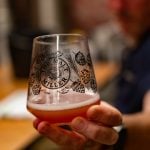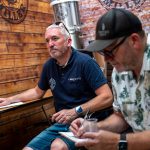 Round 3 provided an opportunity for judges to convene, sample the beers, and engage in discussions. All the beers went through another assessment, with a focus on commerciality and recipe. Three standout beers emerged from this round, and Andy had the final say in selecting the winning beer.
For those interested, you can download the full scoresheet here with every entry listed, identified by entry numbers only. Find your entry number to view the feedback you received. This represents the most comprehensive feedback we have ever provided as part of the competitions we have undertaken with Elusive. We welcome your thoughts and feedback in the comments below as we continue to strive to make this competition something we are proud to be a part of and that you find valuable to enter.
Lastly, we want to thank each and every one of you for entering and joining us on the journey to discover this year's winner. It has been a remarkable experience, once again celebrating homebrewing and supporting those who are considering making it a full-time career! 🍻