Description
Perfect for use in our TMM 25 litre and 35 litre kettles as single units. These can also be used alongside another element in our 50 litre and 75 litre kettles. Using this method both element can be used to quickly raise the temperature with one being switched off to maintain the set temperature or boil.
This heating element MUST be wired to a 220v – 240v AC supply by a qualified electrician.
The preferred cable for wiring this element is – 3 core 1.5mm HO7 RN-F Rubber Cable  – a Google search will find you a supplier.
Never remove the terminal cover whilst the element is connected to the electricity supply.
Never remove the element from the Tri Clamp fitting whilst connected to the electricity supply.
Never operate the heating element unless it is fitted to a vessel and immersed in liquid, do not allow it to boil dry.
A 60mm clearance hole is required to mount the Tri Clamp bulk head fitting.
The element extends 200mm inside the pot when fitted into the Tri Clamp fitting.
Blue Crimp Ring Terminals are recommended for making electrical connections to the heating element.
Terminal layout;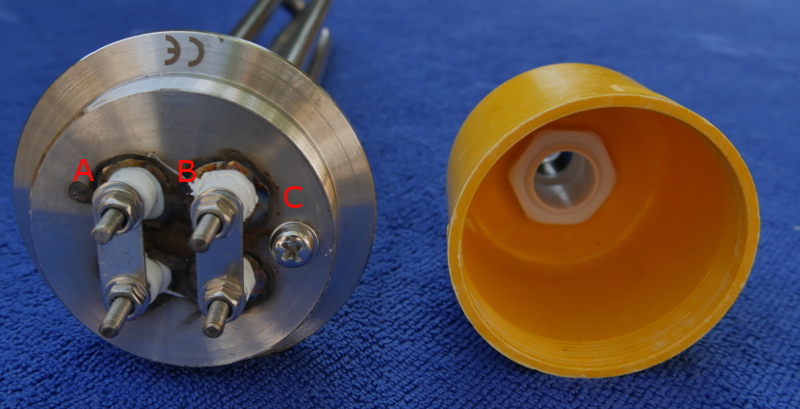 A = Live
B = Neutral
C = Protective Earth
Swiftbrew 3kW Stainless Steel Tri Clamp heating element fitting instructions