Description
This 6kW Stainless Steel heating element has a 9.5w per cm2 density and is configured to use a 2.5 inch Tri Clamp bulkhead fitting which can be mounted into our 50, 70 or 100 litre stainless steel pots or kettles to create an HLT or Boiler.  We suggest using this element in a boiler.  We can fit the bulkhead for the element if required for a small addition charge.
Typical values = to heat 50 litres of water with a starting temperature of 16c raised to 100c takes 42 minutes.
If you intend to fit the bulkhead fitting yourself we recommend using a pair of substantial 85mm diameter plates, one each side of the vessel wall, and tighten them down hard, this will pre-form the area and flatten it out to make a good seal.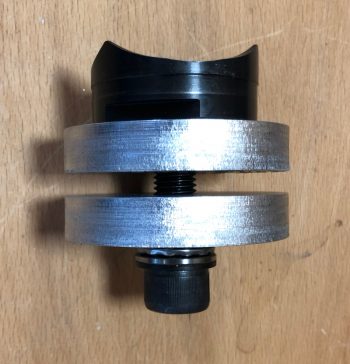 This heating element MUST be wired to a 220v – 240v AC supply by a qualified electrician.
The preferred cable for wiring this element is – 3 core 4mm HO7 RN-F Rubber Cable  – a Google search will find you a supplier.
A suitable heating controller employing a temperature sensor fitted to a thermowell in the vessel containing the liquid to be heated will be required to control the electrical supply to the element.  The thermowell and heating element must remain below the outlet to ensure they are covered by liquid.  Please note – the INKBIRD temperature controller cannot be used to control this element, it can only handle 1kW!
Never remove the terminal cover whilst the element is connected to the electricity supply.
Never remove the element from the Tri Clamp fitting whilst connected to the electricity supply.
Never operate the heating element unless it is fitted to a vessel and immersed in liquid, do not allow it to boil dry.
A 60mm clearance hole is required to mount the Tri Clamp bulk head fitting.  A 60mm Qmax cutter is recommended for this.
The element extends 350mm inside the pot when fitted into the Tri Clamp fitting.
Blue Crimp Ring Terminals are recommended for making electrical connections to the heating element.
Terminal layout;
A = Live
B = Neutral
C = Protective Earth
Swiftbrew 6kW Stainless Steel Tri Clamp heating element fitting instructions