Description
Porky White Chick BBQ Rub – Competition Style BBQ Rub. A Formidable Force. Spices, chillies & umami for maximum effect. Serious competition BBQ rub for use primarily with pork & chicken. Angus & Oink Hooked up with Miss Piggy's BBQ Team to create some formidable dust in ​Porky White Chick BBQ Rub for your grill and smoker! Meat Co lab is a collaboration of two super powers to deliver competition winning favours!
Miss Piggy Barbecue team are an internationally recognised championship team
Miss Piggy's BBQ is a competitive 'U.S.A.' style BBQ team and caterer based in Leicestershire U.K. They are Twice European Champions, UK BBQA Champions,  3 times British BBQ Champions and IBQN European Champions. They are also first winners and twice winners of the European BBQ Challenge Cup. Also the first team to win KCBS Grand Championships in 9 different countries (5 being inside one year) In 2015 they also became the first non U.S./Canadian team to enter the highly prestigious KCBS 700 club.
In 2016 they became the first non U.S./Canadian  team to win a KCBS full sanctioned contest in the U.S.A. They have won awards in 8 different states of America across 3 different sanctioning bodies. They were also the highest placed International team at the Jack Daniels World Championships 2012 and 2nd placed International team in 2015, with a 3rd place chicken and 8th place brisket, which was also awarded top International brisket. Also the only U.K. or European team to appear on U.S. hit T.V. show BBQ Pitmasters!!!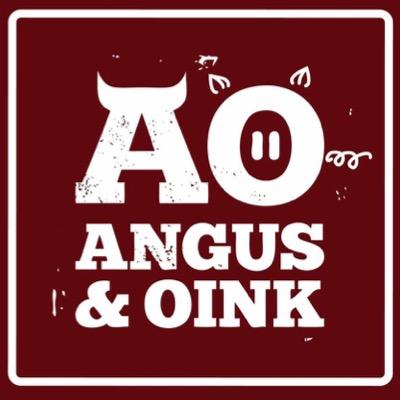 Angus & Oink started after the Founding crew lived and worked in the Americas, that's South of the tex-mex border y'all! Cooking has always been a consuming passion and especially grilling, soul food and wood fired BBQ in all its glory. It's where the flavour is at!!! Discovering sauces & grilled meat combinations all over the continent change our world and we hope to bring the same tantalising flavours to your taste buds!
We'll take you on a journey through our products, no bus ticket required.
Our sauces are an ideal accompaniment and core ingredient in delivering emerging street food trends at home. Luscious foods such as texas BBQ brisket, smoked & Pulled Pork, cajun seafood classics, West Indian curries & snacks and Mexican Epic Tacos are all within reach.
Searching to find the best sauce for our own table led us to concoct rampant Angus habanero ketchup. This all purpose hot, sweet and mustardy magnificence delivers a wicked flavour burst to taste buds and compliments all manner of foods.
Once we had one recipe, we just kept on going. Now we have developed 4 sauces with !!!kick ass flava!!! you'll struggle to find outside the Americas. With other variants in the lab, were on a mission to give you an experience unrivalled, a taste of goodness; journey into the new world.
Angus and Oink represent a passion for BBQ and authenticity, the team focus on delivering a distinct flavour using fiendishly researched ingredients, tasty chillies and delivering on flavour…Kerr….PoW!!! We don't use thickeners, preservatives, colourings and stuff you really don't need to eat.