Description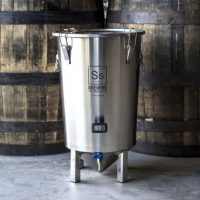 Same as Brew Bucket, adds thermowell & LCD Thermometer.
(Displays in Centigrade – picture shows USA version in Fahrenheit).
7 Gallon max capacity with US gallon and litre markings.
Certified food grade 304 stainless steel.
Lid hole perfect size for our 1/2″ ID blow off tubing. See below
Stack-able during ferment.
Carry handles on sides, move when full.
Etched volume markings in both gals / litres.
Conical bottom to trap trub.
Take gravity samples from bottom ball valve.
20.5″ H x 12.5″ W dimensions.