Description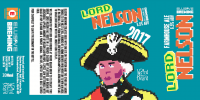 These kits include all grains, hops, and yeast needed to brew the recipe according to the instructions found in CAMRA's Essential Home Brewing book.
Elusive Brewing – Lord Nelson
Lord Nelson is a collaboration between Berkshire-based Elusive and London-based Weird Beard. Collaboration brewing is a popular way for small breweries to work together. It allows the to share ideas, methods and routes to market and can be a great learning experience for the breweries involved. Lord Nelson has been brewed at both breweries and is an annual release, usually hitting taps around springtime. The recipe changes slightly each year and the recipe included here is the original one.
This recipe takes a classic saison base and marries it up with the wonderful gooseberry qualities of New Zealand's Nelson Sauvin hop. The finished beer is typically dry and the combination of the hop profile and yeast esters bring a vinous fruity quality. A combination of Maris Otter and Pilsner malt provide the base but Vienna and Munich also feature heavily to help balance the dryness of the high attenuation. Bitterness is on the high side for the style but is countered by the malt base. Belle Saison yeast is a fast starter but prefers some warmth to finish off. Expect fermentation to go off quickly then slow, to the point it can appear to have stopped, after around 3-4 days. It is recommended to leave the beer for at least 10 days in primary fermentation to ensure a stable final gravity.
Colour 13
Original 1059
Final 1006
ABV 7%
Bitterness 20
Every effort is made to match the brewery recipe precisely, but at times it maybe necessary to change some of the listed ingredients on the recipe to alternatives due to seasonality or availability, but in all cases we do our best replace with something that won't impact on the overall taste and flavour of the beer.