Description
As you know, brewing your first beer from malt extract is a fun and easy way for new customers to get into brewing. We have made it even easier with the Mangrove Jack's Starter Brewery Kit – this kit contains all the equipment and ingredients they need to start brewing their own beer at home.
Kit Includes:
• 30 L Fermenter (including tap)
• Thermometer
• Airlock
• Hydrometer
• Bottling Wand
• Brewers Spoon
• Sanitiser
• Bottle Brush
• Capper and Seals
(Bottles or carbonation drops not included)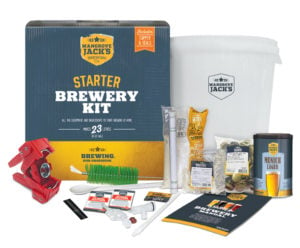 Includes 1 pouch of Mangrove Jacks Reinheitsgebot/Pure Malt Enhancer.
Choose from the wide range of Mangrove Jacks Craft Series beer kits to tailor your home brewery.
The only additional items required are bottles and sugar for priming bottles.