Description
Sold in 100g mylar bags, nitrogen flushed, and cold stored to ensure you get ingredients of the same quality that professional brewer would receive.
Also available by the gram to create your own bespoke recipes using our Recipe Generator
Released in 2015 and growing in popularity, the limited volume moutere hops has an essential oil profile displaying characteristics of intense fruit, pine and grapefruit aromas. Its high alpha acid level however provides a soft well-structured hop but with solid bitterness.
Moutere™ is a big hop delivering high alpha acid with a generous weight of oil while its lower cohumulone provides a soft well-structured but solid bitterness.
It makes an excellent dual-use hop, carrying an exciting fruit aroma with refreshing notes of tropical fruit and citrus. It can be used at any point during the brewing process and works well in sweet, malty and fruity beers. Massachusetts brewery brewmaster Jack uses Motueka in a Maibock and Sierra Nevada brewery also debuted their Southern Hemisphere Harvest fresh hops ale in April 2014 using Motueka, along with Southern Cross, as its finishing hop.
FLAVOUR
Grapefruit, Pine, Passion Fruit
ALPHA: 14.9%
BETA: 7.7%
OIL (mL/100g): 1.87
Beer Styles
IPA
Double IPA (DIPA)
Characteristics: Grapefruit, Passionfruit, Resinous
Hop Revolution is committed to growing high-health hops, developing new and exciting varietals and trialling growing techniques to produce the unique flavours our brewers are seeking.
We are partnering with others and have our own inhouse science programme and nursery to ensure the best plants are growing on our gardens.
We have installed two brand new Wolf 1000 Pickers and Wolf Kilns to ensure our hops are dried and conditioned to the highest quality.

Our hops are grown, dried and baled onsite before being transported in cold storage in a bale form to the USA where they are pelletised and distributed directly to Brewers in USA and Canada.
Our model is to partner with leading pelletisation and cold storage facilities in-market, to utilise the best facilities available and to provide fast and reliable delivery timeframes to our brewers.
Back in 1980, a feisty South Island craft brewer named Terry McCashin came out of the hills of Nelson and single-handedly took on the two big breweries that controlled almost every aspect of beer production and distribution in New Zealand.
An ex-All Black rugby player with a reputation for hard-tackling, McCashin simply wasn't born to follow.
Driven by his own passion for the potential of New Zealand hops, he took on the big boys by establishing his own craft brewery and his own craft beer brand, (Mac's).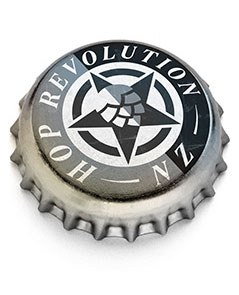 Fast forward to 2014. Dr Wheeler and Kerry Skilton, inspired and encouraged by McCashin, collaborate to create what is now New Zealand's largest single site hop garden (116ha).
Today the hops produced on the gardens of Hop Revolution reflect not only the vision we have to bring New Zealand's most flavoursome hops to the world but also who we are as a close-knit family of brewers, plant scientists, farmers, nurserymen and kiwis who just love a great challenge!
Now UK home brewers have their first chance to use the finest quality New Zealand hops direct from one of the worlds leading growers thanks to a new partnership with The Malt Miller where are are going direct to the farms to source the finest hops around the world.
We contract and source our hops from the finest merchants and farms around the world, ensuring you get the chance to brew with the same high quality product that professional breweries use.
Using mylar bags which prevent light degradation of the hops, flushing the bags with nitrogen to remove oxygen and cold storage of them until ordered by you, ensures the hops are as fresh as possible.
If you want to learn more about hops and how to use them then check out our Help Centre where you will find blog posts and our Brew With Us ESSENTIALS and we also have some great content on our YouTube channel about hops too.