Description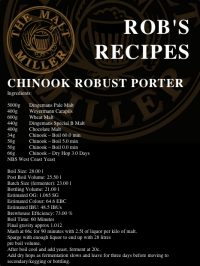 Download BeerSmith BSMX & XML files
If you are using a Grainfather you can use the XML file to control your brew session.
Boil Size: 28.00 l
Post Boil Volume: 25.50 l
Batch Size (fermenter): 23.00 l
Bottling Volume: 21.00 l
Estimated OG: 1.065 SG
Estimated Colour: 64.6 EBC
Estimated IBU: 48.5 IBUs
Brewhouse Efficiency: 73.00 %
Boil Time: 60 Minutes
Final gravity approx 1.012
Mash at 66c for 90 minutes with 2.5l of liquor per kilo of malt.
Sparge with enough liquor to end up with 28 litres
pre boil volume.
After boil cool and add yeast, ferment at 20c.
Add dry hops as fermentation slows and leave for three days before moving to secondary/kegging or bottling.
Ingredients;
5000g       Dingemans Pale Malt
400g         Weyermann Carapils
600g         Wheat Malt
440g         Dingemans Special B Malt
400g         Chocolate Malt
34g           Chinook – Boil 60.0 min
50g           Chinook – Boil 5.0 min
50g           Chinook – Boil 0.0 min
66g           Chinook – Dry Hop 3.0 Days
1 packet of yeast, suggest NBS West Coast Yeast (not included)