Description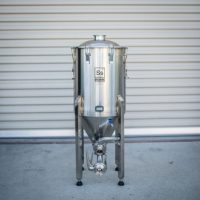 Introducing the all new Brewmaster Edition. These are a major step up from the standard fermenters:
14 US Gallon 53 Litre capacity
304 Stainless Steel
Custom Ss squeeze trigger butterfly valves
3" TC port on lid/ top for dry hopping/CIP
Includes 3″TC clamp, gasket, 3″TC cap
3″cap on lid has 17 mm hole for airlock / blow off
Standard sampling valve included with unit
304 Ss chiller coil weldlessly mounts inside unit!
Chiller coil is included standard in the kit
Neoprene insulation jacket standard in kit
Allows you to retain domed lid for transfers
1.5″TC flanges on racking/ dump ports
Rotatable TC racking arm included
Supplied with weldless thermowell
Includes LCD temp gauge standard
Sanitary welds and beautiful polish finish!
Brewer's grade silicone gaskets
Electrically etched volume markings in US Gallons and Litres
Threaded inserts on leg bottoms (3/8″) to accept castors
See below for accessories