Brew With Us ESSENTIALS – which hops for my recipe?
By now, we know pretty much everything there is to know about hops, right?
Let's put our knowledge to the test…

As we did with malts, it's a good idea to look at recipes to see how you can use hops in different styles. Here we go!
Landlord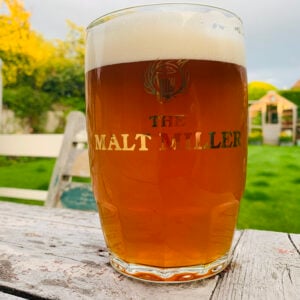 Best Bitters, and particularly Landlord, are known for being "hoppy" in comparison to other traditional British ales. This recipe uses the classic British hop, East Kent Goldings – and Styrian Goldings, which we know is a European version of another classic, Fuggles, with its own slightly more "European" herbal character.
Most of the hops are added at the beginning of the boil (90 mins). Almost all the alpha acids in the hops will isomerise with this early addition, providing firm and clean bitterness that plays well with the malt sweetness. A later boil addition at 10 minutes remaining adds a softer bitterness and gives a little more complexity. The final addition at flame out adds virtually no bitterness but brings out further complexity and more of the herbal and spicy flavours of the Styrian Goldings.
One way to think about different beer styles is to identify the primary flavour they use. Something like a brown ale or ESB is "malt-forward" – all about rich malt flavours. A Belgian blonde like our Leffe clone is a yeast-forward style, where the clove and pepper flavours of the yeast are the main focus. More on yeast flavours in the next part of our course!
We still need hops in malt- and yeast-forward beers, though: the bitterness balances the other flavours. So here we see there's just a single hop addition at the beginning of the boil. We know Hallertau Mittelfrüh is one of the classic noble hops, and the clean herbal bitterness this adds partners beautifully with the other flavours in this recipe.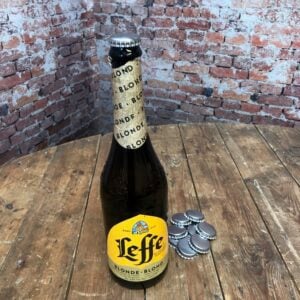 Even Sharks Need Water
Now this is very much a hop-forward beer! Verdant pack so many hops into their beers that they become hazy from all the hop oils (along with haze from high percentages of oats). They've very kindly shared their recipe for this supercharged IPA and it's a hopping masterclass.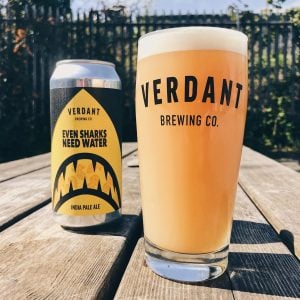 The first hop used is Magnum, which is a European hop known for its super-clean and unobtrusive bittering. This goes in at first wort and is all the bitterness we need. After that, we wait until after the boil to begin a thirty minute hop stand. We know that hop stands are a good way to get more flavour with lower bitterness, which is what we're targeting with this style. Citra is a classic USA hop, super "dank" with lots of bright citrus, while Galaxy is a New World megastar with massive tropical flavours.
The biggest hop addition by far is as a dry hop after fermentation. Using Galaxy and Citra again keeps the flavour profile focused, which is important with such big hop flavours. Adding too many varieties can lead to an undefined "hop soup" without a clear character. Because the dry hop is so large, there's a risk of hop burn, so Verdant's recipe suggests lowering the temperature to under 15°C before adding the dry hops.
There's a huge amount of hops in this recipe, and without careful handling this could be undrinkably bitter! Verdant's choice of hop stands and dry hopping create a supremely flavourful and well-balanced beer.
Sabro Incognito
Sabro is a recently developed hop from the USA. As you'd expect, it has a big "American character" of citrus, plus some of the tropical mango of famous C hops like Citra, but Sabro's secret weapon is a big whack of coconut! This flavour comes from the same set of woody and spicy compounds usually more prominent in British hops. It really makes Sabro stand out.
This recipe is a "single hop" beer designed to show off the range of flavours Sabro can produce. As with all the recipes we've looked at, the first addition is for bittering, but rather than using hop pellets or leaf, this time we're using Flex, a hop extract. The ultra-clean and flavour-neutral bitterness of Flex leaves plenty of room for the Sabro flavours we want to shine.
As with Even Sharks Need Water, the next addition is a hop stand (aka whirlpool). We're using another hop extract: Incognito. This extract is specially designed for whirlpool additions and delivers maximum flavour with no wastage or hop debris to clean up.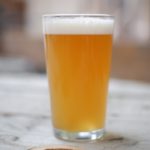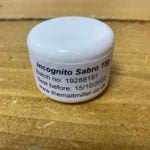 We finish with dry hopping, this time in two steps. The first dry hop addition is in the middle of primary fermentation, while the yeast is still active. This means the yeast can go to work on the hop oils, potentially releasing even more flavour through biotransformation. However, the CO2 released during fermentation can break down other parts of the hop flavour, so a second dry hop is added after fermentation is complete to bring these elements back.
This recipe is a great example of how different techniques and products can be used to showcase the full range of flavours in just one hop!
Congratulations on completing this section of Brew With Us ESSENTIALS!
Next time we begin the third part of our course: yeast.
Grab your science goggles, we're going microscopic…