ExBOARiment – Oak Ageing Products (Part 1)
This is a guest blog post from Jon Moore of Beer Boars East London. In which Jon details their recent testing of available options for creating barrel aged beers as a home brewer: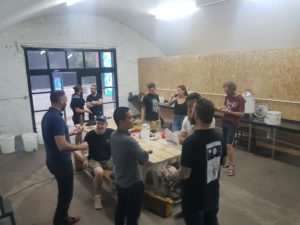 Our homebrew club loves experiments. We've tried experimental yeast strains, the interaction between different hops and yeast, and new equipment whenever we can get our hands on it. Our members are always keen to try new things and have previously brewed a pickle juice gose, a series of mixed-fermentation fruited saisons and a coffee pale ale that's so caffeinated it'll keep you up all night. If it's going to expand our knowledge of beer and brewing, we're up for it.

We also love barrel aged beers. We love those rich toasty vanilla notes you get from oak-ageing that can turn a good beer into a great one. But achieving that on a homebrew scale can be tricky, or so we thought. At Brew Con Leeds 2019 we visited the Malt Miller stand and tried their porter dry-hopped with the new ProvOak hop pellets from Simply Hops. It was sensational.

For those not in the know, ProvOak is a new product that blends hops with powder from oak casks. It's essentially a hop pellet, but with the ability to add an oak-aged character to your beer. This got us thinking about the different products you can use to oak age beer at home. There are "traditional" cask chunks, the new ProvOak pellets, and flavourings which can be used to mimic the flavour of extended oak-ageing. We wondered, what effect does each have on beer? Would we be able to tell the difference? And, perhaps most importantly, which would we prefer, both in terms of flavour and ease of use? It looked like we had another experiment on our hands.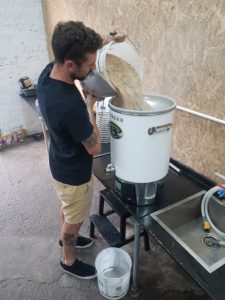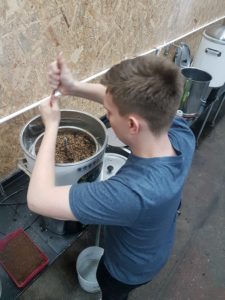 On 1st August we met at Brew Club in Hackney to begin our experiment. Brew Club is a hub of East London's homebrew community, it combines a very well stocked bar with a brew space where you can hire an all-in-one Braumeister system and ferment and bottle on site. Beer Boars brew days can occasionally be chaotic, but this time everything went to plan. We brewed 20 litres of stout, adapting an award-winning recipe from acclaimed homebrewer Lee Immins. We tweaked recipe to slightly simplify the malt bill and swap the English finishing hops for Cascade to suit our own tastes. After around a week of vigorous primary fermentation we split the beer four ways. Three batches will be "aged" using cask chunks, ProvOak pellets and oak flavouring, and one will be kept as a control batch.
At the time of writing, we've added the

bourbon barrel cask chunks

to one batch. The whole packet was steamed for 15minutes and we then added 3 small chunks to 5litres of beer, using sterilised metal tongs. The aroma as we opened the packet was amazing. We're aware that this might be quite a lot of wood to add, but we got excited and really want those flavours to punch through for the sake of this experiment.
The next stage will be a blind tasting and evaluation at our October meeting on Thursday 3rd October at Brew Club. We will follow up with our thoughts afterwards, and if you're in the area, you're very welcome to join us.

Mash at 68c:
5.2kg Pale Malt (72.5%)
0.8kg Brown Malt (11.2%)
0.2kg Oats (2.8%)Mash out at 75c.

Steep during sparge:
0.35 kg Crystal Malt – 150 EBC (4.9%)
0.25kg Chocolate Malt (3.5%)
0.25kg Black Malt (3.5%)
0.12kg Table Sugar (1.7%)

Boil:
50g Magnum – 60mins (58.5 IBUs)
40g Cascade – 10 mins (8 IBUs)

OG: 1.066

Batch split four ways after one week of primary fermentation.

Malt Miller

Bourbon Barrel Chunks

added six weeks before bottling.

ProvOak US hop pellets

to be added one week before bottling.

Mangrove Jacks Oak Flavouring

to be added the day before bottling.—-Words by Jon Moore of

Beer Boars East London

. Beer Boars is a London-based homebrew club with chapters in both East and West London. Everyone is welcome at our meetings. Find us on Facebook, Twitter and Instagram. Beer Boars are extremely grateful to Malt Miller for supplying the oak ageing products for the purposes of this experiment.
We're really grateful to Jon and the Beer Boars for sharing this with us, and can't wait to get the second part where they taste test the beers produced using these methods.
If you would like to write a blog post for us or have an idea for a subject matter please do get in contact with us.