The Grainfather family has grown! Part one: The G40
Over seven years ago – oof, that makes us feel old – Grainfather launched the G30, one of the first all-in-one systems for homebrewers. Since then, updates like automated Bluetooth control, micro pipework, and other features have expanded and improved the G30. Last year Grainfather revealed the G70, a Hulk-sized version with a beefier element and pump, plus some extra improvements based on customer feedback.
Grainfather aren't ones to rest on their laurels, and we've now got two new additions to their family of systems. Let's take a look at the next evolution of Grainfather, starting with the new G40. If minimalist and simple is your thing, we also have a deep dive into the new S40.
The G40 – great expectations
As all homebrewers know, if you leave equipment alone in the dark, it breeds… ! Well, the G40 definitely looks like the love child of the G30 and G70. But the G40 has some new tricks of its own.
G40 vital statistics
| | |
| --- | --- |
| Height | 725 mm (28 inches) |
| Diameter | 555 mm (22 inches) |
| Weight (empty) | 29 kg (64 lb) |
| | |
| Minimum grain bill | 5 kg (7 lb) |
| Maximum grain bill | 13 kg (29 lb) |
| Minimum batch size | 10 litres (3 US gal) |
| Maximum batch size | 40 litres (11 US gal) |
| Maximum boil volume | 46 litres (12 US gal) |
| | |
| Heating element | 2900 watts – UK version |
| Pump | 25 watts |
| Control unit | Wireless |
As you can see from the dimensions, the G40 is based on the same body as the G70 – just shorter. That means spares like the G70 lid fit out of the box. The G40 also inherits the same smart wireless control unit, as well as the super strong heating element and pump from the G70, delivering a wallop of extra power compared to the G30.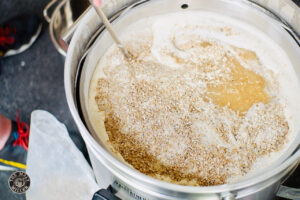 The G40's unique feature is the grain basket. The centre overflow pipe and top plate are both gone: neither are needed thanks to new perforated edges that allow the wort to flow throughout the grain bed. If you miss the old top plate, you can get one as an option, which can be useful for high gravity brews pushing that huge maximum 13kg of grain, though for the vast majority of brews this isn't needed (unless you brew wall-to-wall imperial stouts – hey, it's a valid choice). Dual temperature probes also give more accurate mash temps, ironing out any differences between the centre and edge of the grain bed. Between these features you can expect better mash efficiency than ever.
Underneath the grain basket sits a large plate filter protecting the pump, replacing the cylinder design used on the G30. This thing is super efficient – in our tests we threw a full kilogram of T90 pellets into the boil and the filter kept the whole lot out, so you can retire your hop spider! There's no risk of knocking the filter off when you're stirring the boil, and rolled edges means the plate can be fitted without risk of scratching the sides – and without any need for silicone seals.
What else… oh yeah, of course – the G40 is bigger than the G30! The name indicates you can produce a 40 litre batch with this unit, enough for two full size kegs. Say you decided to go halves with a friend on buying the unit – that's one keg each, no fuss. Under that filter is a dished centre drain, so you get zero deadspace losses – if you're reading 40L on the integrated sight glass, you'll get 40L out.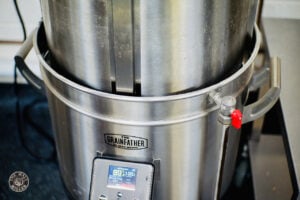 The grain basket improvements are a huge help. Fitting the top and bottom plates in the G30 can be, ahem, a bit of an art. The G40 basket has a rolled edge just like the main plate filter, with no silicone seals required. Our early tests have shown a dramatic decrease in swear words per brew from this change alone…
The side perforations in the basket also work brilliantly. No centre pipe means there's no risk of knocking it while mashing in, eliminating another cause of brewday grief, and also means you can go straight from a big beer to a smaller brew without needing to switch in micro pipework. The mash filters really well – in our tests, we had clear wort flowing in only ten minutes – the sparge flows as fast as you like, and the perforation is really neatly machined, and we need to stop raving about holes in a metal basket because we're starting to sound a bit loopy.
Should I buy one?
Let's be straight: at £1,095, the G40 is not a budget option. For the features you're getting, it's actually amazing value, but it's still a big outlay.
… but there also isn't anything out there with these features and this build quality anywhere near this price point. It's easy to say that Grainfather have taken the best features from the G70 and put them in a smaller package, but it's new advancements like the improved grain basket and zero-deadspace drain that make the G40 much more than just a mini G70 – or a big G30.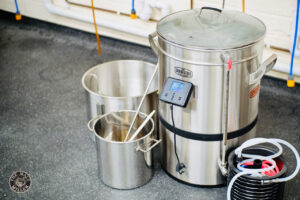 We can foresee a lot of you teaming up with a friend to get a G40 to take advantage of that extra batch size, taking home one full keg each per brew. We can also foresee some of you deciding to buy a second unit so you have one of your own…
Does this render the G30 obsolete? Not really. We've done hundreds of brews with our G30s and they're still going strong. There are loads of accessories available to expand the G30, even alembic domes for home distillation, and spares for pretty much every part. The G30 is perfectly sized and powered for a single keg batch, and we're sure it'll remain a popular choice in the Grainfather range. The G40 is less a replacement, more the iPhone Plus to the G30's iPhone – choose whichever suits you best.
Browse the full range of Grainfather brewing systems
If you'd like to learn more about the G40, check out our videos covering everything from unboxing and assembly through to real brews – and tests where we find out just how well the official specifications hold up. And don't forget to subscribe to our YouTube channel for all the latest tips, brews, and reviews.