Description
The Malt Miller Electric Brew Kettle has been developed to offer brewers a premium brew kettle that meets the needs of those that wish to invest in a product packed with features than you would usually find on a much higher priced product, whilst retaining high quality manufacturing.
There are various options available when purchasing this product depending on what it is to be used for and to suit various budgets. See below for recommendations:-
To use as an HLT ( Hot Liquor Tun ) Choose 1 x 3kw element
To use as a BK (Brew Kettle ) Choose 2 x 3kw elements or 1 x 6kw
Choose product options above right. Each element will need a corresponding 60mm hole cut for our fitment of the tri clamp bulkhead.
Element can be manually controlled by switching on and off at the wall socket in the most basic set ups. However, for complete control, mate our brew kettles with one of the Einbrew range of brewery controllers for automation.
The stainless steel, low watt density elements are fitted to the vessel with a tri clamp fitting. This allows them to be quickly installed and removed making cleaning very easy. Please note that the element will need to have a plug fitted, this is to be carried out by, or checked by, a qualified electrician.
Manufactured in 304 stainless steel ensures you have a kettle that matches the kit of a professional brewery. A hard wearing steel that will be able to handle heat, acidic and alkalinity pressures experienced during the brewing process. Giving it long term resistance to rust and corrosion, that can occur in lesser pots or kettles.
The kettle has a brushed finish inside and out, this ensures that you don't have to worry about water marks on any polished surface or any staining, this also means no need to passivate the steel before use or during its life time. Whilst also ensuring your kettle stays looking smart and professional in your brewery.
Laser etched 'The Malt Miller' logo sits front and central on the kettle, so  your brewing friends know that you only buy the best quality products and ingredients to produce your brews.
Internal volume markers laser etched into the kettle.
Pre-cut holes for fitting tap and thermometer.
Complete with BSP Ball Valve Weldless Tap and bazooka filter.
Includes thermometer with dial that measures the internal temperature of your liquid up to 100c.
Product Features
304 Stainless Steel construction
1.0mm Wall Thickness
Volume markings on inside of kettle
Rubber handle grips
Stainless Steel lid with rubber grip handle
1/2″ (14mm) BSP Ball Valve Weldless Tap Included
Bazooka Filter Included
Thermometer with extra long probe
5mm thick sandwich base constructed of stainless steel with aluminium core
Suitable for use on induction hobs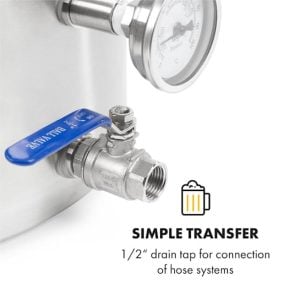 1/2″ (14mm) BSP Ball Valve, weldless tap
Use this with the included bazooka hop filter to reduce matter in your wort/brew
Drain liquid from your kettle with ease, option to fit hose barb for transfer (not included)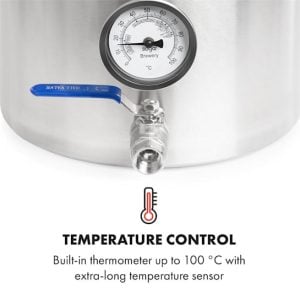 Pre-cut holes for fitting thermometer.
Large dial Thermometer which measures up to 100c, with long probe.
Product Dimensions
External Height: 495mm
External Width: 550mm
External Depth: 510mm
Internal Dimensions
Internal Height: 480mm
Internal Width: 475mm
Internal Depth: 475mm