Description
The aim of the BeerDredge Beer Flavour Wheels is to present a lexicon of the most common terms to describe beer's flavour and drinking characteristics, and improve overall beer communication, evaluation and education, whether in the brewery, the bar, or at home.
We developed the Beer Flavour Wheels with industry experts alongside deep literature searches––existing flavour language, style guides, books, scientific papers, even the language used in marketing and social media––to develop the lexicon of words drinkers are most likely to encounter and where those characteristics come from. We started by creatinga lexicon for hops, malt, fermentation and maturation (including negative qualities), plus relevant terms for drinking assessment, and we then compiled the most important terms into an overall Beer Flavour Wheel.
The Flavour Wheels do not end at the lines which enclose them, nor are they limited to just the terms you see. We need to add our own qualifiers (like it's subtle or intense); we can add specificity to the terms in the outer section of the wheel (like it's lemon zest, dried apricot or baked apple); and we can be evocative and personal (like it reminds us of grandma's fruit cake or grandad's tobacco box). The beer lexicon gives words to form a language, but our individual perceptions transform those words into stories and meanings.
The BeerDredge Beer Flavour Wheels are a tool for all of us who want to understand beer better and to use the right words to communicate about what we're drinking.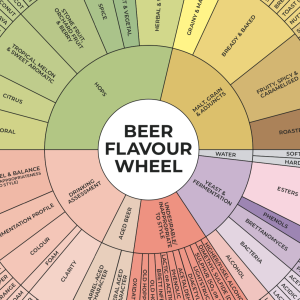 The Beer Flavour Wheel poster is ideal for taprooms, bars and breweries, plus it looks great at home. Please note, this is the single Beer Flavour Wheel and not the set of six wheels.
Size info: A1 is 841 x 594mm
NOTE: The poster comes rolled in a tube, frame is not included and only for representation of how it can look at home.