Description
All home-brew style kegs that we sell have the same fittings. This means customers are able to mix and match different manufactures and different size kegs but keep using the same fittings. Also, one set of fittings can be used over various different kegs by easily swapping disconnects. Always remember Grey is for GAS and Black is for BEER, do not get them the wrong way round as it causes all sorts of issues including broken disconnects and lots of swearing. If there is not any obvious signs on your keg which post is in and which post is out there are a couple of ways to double check. Open the lid, you will see one long dip tube that goes to the bottom of the keg, that is the Black, Beer out side. Also the gas post always has some form of notching or perhaps a slash through the nut.
Choose any keg or multiples of from the top right hand side of the page. Or if you have already got a keg and just need to get going with the necessary fittings the is no need to choose a keg.
This kit consists of:-
1 x ODL bottle mounted CO2 Regulator, this connects to your large pub style CO2 cylinder. NOTE: If you are using a Sodastream cylinder then choose the adapter on the top right of the page
1 x Threaded Black disconnect and John Guest push fit adapter
1 x Threaded Grey Disconnect and John Guest push fit adapter
1 x Premium Party Tap
2 m x 3/8 Gas line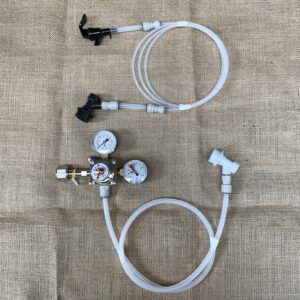 Don't forget to add the keg of your choice to the kit!
If you add more than one keg to your kit you will receive one tap and one gas connection.
NOTE:
As with any purchase of equipment which is going to come into contact with wort or beer we would always recommend you carry out your own cleaning and sanitisation process before using to remove any manufacturing oils and reduce risk of any infection of your brew.