Description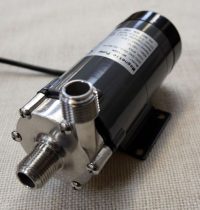 This pump has a stainless steel pump housing with ½" bsp threaded input\output ports.  It has a 8 litres a minute flow rate with a 1.5mt head capacity.  Maximum fluid temperature is 120 C.
The pump has a magnetically coupled impeller, which allows you to control the flow from the pump with a valve, useful for sparging for instance.  You can close off the flow and the pump will not suffer any damage.
The pump is not self-priming and must not be run dry.  Only use flow control on the output side.
Operating voltage 220\240 AC @ 10W IPX4 rated.